The Best Time to Book a Flight, According to Experts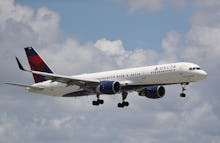 Buying plane tickets is often one of the priciest — and most stressful — parts of planning a trip. Plane fares go up and down, and third-party sites often show different fares than those advertised by airlines. But there's actually a science behind the madness, and finding the mythical "magic" window when flights are cheapest is indeed possible. 
Back in February, discount airfare site CheapAir.com released the results of a massive survey of more than 1.3 billion airfares from 2015 and found that the cheapest time to buy airline tickets was, on average, 54 days before the flight.
That's right, 54 is the magic number — the "best number of days in advance to buy a flight," according to CheapAir.com. But before you go tattooing it into your eyelids, know that the number comes with some caveats.
For starters, CheapAir.com said in its report that 54 days away from the flight was the magic number for domestic flights — so, it only applies if you're flying within the U.S. And just because CheapAir.com found that the average best time to buy a plane ticket in 2015 was 54 days before a flight doesn't mean that it's the best time to buy for every individual flight, although it does seem like a good place to start — in its 2015 annual flight study, travel site Momondo found that the cheapest price was 53 days before a flight.
CheapAir.com also used data to create a "When to Buy Flights" calculator that suggests the best time based on your starting point and destination. And there are plenty of sites that can help you find the cheapest fare, like SecretFlying.com and TheFlightDeal.com, which find sales and accidental price drops in airfare.
Read more: