7 Ways Donald Trump's Running Mate Mike Pence Has Proven He DGAF About LGBTQ People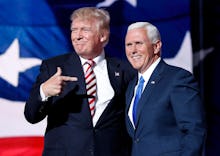 Republican presidential nominee Donald Trump spent part of his long, fear-mongering speech at the Republican National Convention on Thursday appealing to LGBTQ voters — promising he'd protect them from "hateful foreign ideology." However, Trump is yet to comment on how he will protect LGBTQ people from the man he's chosen to be his second in command: Indiana Gov. Mike Pence. 
His rap sheet when it comes to anti-LGBTQ offenses has grown long over the years. Here are a few of his worst moments.
He endorsed discrimination against LGBTQ people in the name of religious freedom.  
Long before North Carolina Gov. Pat McCrory drew national ire for signing the controversial anti-trans HB2 into law, LGBTQ people had a lot of gubernatorial hate toward Mike Pence. In March 2015, Pence signed into law the Religious Freedom Restoration Act, which allowed for several types of discrimination — in housing, employment and more — in the name of, you guessed it, religious freedom. 
The two-time Pulitzer Prize-winning Indianapolis Star editorial board wrote a blistering article denouncing Pence and the law, and even dedicated a very blunt front page. 
Just as quickly as Pence signed the law, Gregory Ballad, Indianapolis's Republican mayor, issued an executive order protecting the city's LGBTQ citizens who were made vulnerable by Pence's law. 
Pence reacted to Obama's directive by explaining to his state that Obama had no right to force Indiana to do anything. 
"Policies regarding the security and privacy of students in our schools should be in the hands of Hoosier parents and local schools, not bureaucrats in Washington, D.C.," Pence said in a statement. "The federal government has no business getting involved in issues of this nature."
He voted against employment protections for LGBTQ people nationwide. 
Before Pence became Indiana's governor, he was a member of the U.S. House of Representatives and attempted to deny employment protections to LGBTQ people nationwide. 
Pence voted against the Employment Non-Discrimination Act of 2007, which would've made it illegal to discriminate against employees on the basis of sexual orientation nationwide. (There still aren't federal protections for LGBTQ people, by the way.) 
Pence told The Atlantic the law "wages war on freedom and religion in the workplace." 
He believes marriage equality will cause a "societal collapse."
In the time before the Supreme Court made marriage equality the law of the land, several states enacted same-sex marriage bans, and some Republicans in Congress — including Pence — floated an idea of a federal law that would stop same-sex marriage nationwide. 
In a 2006 address to the House, Pence said that he "[believes] that if someone chooses another lifestyle than I have chosen, that is their right in a free society," but went on to cite research that said that "societal collapse was always brought about following an advent of the deterioration of marriage and family." And, yes, according to Pence, same-sex marriage was part of the deterioration of marriage — even though, you know, it was about more people wanting to get married. 
He was a fan of "Don't Ask, Don't Tell" and of keeping LGBTQ people out of the military.  
In 2016, the military is set to lift its ban on transgender people serving in the military. While Pence remains tight-lipped on trans rights in the armed forces, he was very vocal about gays entering the military. He didn't like it. 
In 2010, he said the military should not be a "backdrop for social experimentation or debating domestic policy issues" — yes, gays were the "experimentation." 
Rather, Pence said, the military should focus on "readiness," "recruitment" and "cohesion."  
He caused an entire HIV outbreak when he shut down Planned Parenthood in Indiana. 
With public funding for Planned Parenthood gutted, rural Indiana had no public HIV prevention or testing services, and an HIV outbreak commenced. 
As the Chicago Tribune wrote of the outbreak, "The people of [Austin, Indiana] bore that burden for Indiana's War on Planned Parenthood."
The outbreak was mostly fueled by heroin use. As a response, Pence instituted a needle exchange, which has been proven to reduce risk of transmission. However, he only allowed it for 30 days. 
Don't even ask about his stance on conversion therapy. 
Defunding HIV prevention: bad. Advocating conversion therapy: bad. Put them together — it's a disaster. 
In 2000, Pence advocated rerouting federal dollars away from "organizations that celebrate and encourage the types of behaviors that facilitate the spreading of the HIV virus" and into "institutions which provide assistance to those seeking to change their sexual behavior." 
Whether it's LGBTQ employment, health or personhood, Pence seems uninterested in helping the community in any way. A ticket that includes Pence is a ticket that leaves LGBTQ people behind. 
Read more: