Disney's 'Moana' Will Not Have a Love Interest For Its Protagonist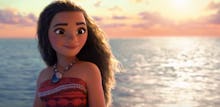 Disney's first Polynesian princess in its forthcoming film, Moana, is not going to have a love interest. The news was confirmed at Comic-Con International during a panel with Moana's directors, John Musker and Ron Clements, Entertainment Weekly reported. 
Moana follows the story of the titular character as she searches for the once mighty demigod Maui (voiced by Dwayne Johnson) to help save the world and her family. Clearly, it seems, saving the world takes precedence over finding Prince Charming, following in the footsteps of Disney's 2013 hit Frozen as an original animated film that doesn't narrow the focus down to a romantic coupling. Rather, per the directors, the film is about "the heroine finding herself." 
Moana has not escaped criticism, however. The film has still come under scrutiny ahead of its release, with many pointing to its depiction of Maui as misrepresentative of Polynesians — specifically, relying on the stereotype that Polynesians are generally obese. 
There's plenty to be excited about with Moana, though. Lin-Manuel Miranda of Hamilton is composing music for the film. Moreover, Moana features newcomer Auli'i Cravalho voicing the princess, who nabbed the role through an open audition.  
Moana will arrive in U.S. theaters Nov. 23. 
Read more: