A New Campaign Uses 'Pokémon Go' to Save Syrian Children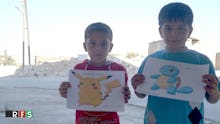 Pokémon Go looks a little different in Syria.
Photos of Syrian children holding pictures of Pokémon, with messages like "I am in Syria ... Save me!!" have been coming from refugee artists and an activist group called the Revolutionary Forces of Syria. The campaign uses the massive popularity of the new Pokémon Go game to shed light on the children stuck in the war-torn country.
"There are plenty of #Pokémon in #Syria. Come save me!" One of the RFS tweets said:
The photos published online are heartbreaking:
Another artist, Saif Aldeen Tahhan, created a photo series called Syria Go, which depicts a Pokéball being used to capture a first-aid kit on a street full of rubble, a life raft next to an already-full raft, a stack of books in an empty classroom and a teddy bear on a rubble-filled street — all actual images from the Syrian war.
"People on social media talk about Pokemon all the time so I created these images to draw attention to suffering during the war and what Syrians are really searching for," Tahhan told CNN, adding, "I can tell you, the Syrian people are not looking for Pokémon."
The photos came out days after news broke that U.S.-led airstrikes have killed more than 100 civilians in Syria since June.
Read more: