Unsung Style Icon: Chelsea Clinton, Fearless Embracer of Mom Jeans and Super Frizzy Hair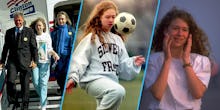 When the world was first introduced to preteen Chelsea Clinton, her father, Bill, was running for president of the United States. 
At that age, defining your personal style is already a challenge, what with the onset of puberty and overall uncertainty of just what trends can actually work for you. Combine that with the scrutiny that comes with being a first daughter — relatable, right? 
Remarkably, though, even with that pressure, Clinton was able to carve out a style that was all her own. It just happened to be way, way ahead of its time. Just think: Before you ever did, she wore mom jeans and made them look cool. Before you ever did, she embraced her naturally frizzy hair. Compare that to how the Obama daughters dress now (which is young and hip and trendy), and you'll see the difference. 
Although her style has become more traditional over the years, may we never forget that Chelsea Clinton was once a rebellious teenage trendsetter, and most definitely a highly unappreciated and unsung style icon.
Here are just five instances of Clinton being very quietly cool in the '90s. 
Teenage Chelsea Clinton rocked oversized suits like a boss. 
There was Annie Hall, and then there was Chelsea Clinton. Since her mom had the power suit, Chelsea decided that oversized suits could be her thing, wearing wide pants and skirts with jackets that hit far below her hips. 
While oversized clothing was a trend in the '90s, most other people were taking the treatment to things like dresses, or even T-shirts. Meanwhile, Clinton was commonly seen wearing oversized suits when she was just in her early teens. 
And while it may have been seen as nerdy then, large suits on women are now markers of chicness, with designers like Stella McCartney and Yves Saint Laurent regularly sending models down the runway in suit jackets that look like they were made for a man. 
Before you ever did, Clinton embraced acid wash mom jeans. 
Before Kylie Jenner ever tried to push mom jeans on a new generation of young girls, Clinton knew they were cool. Yet again, she was a trendsetter for us way back in the early '90s, often seen at her most casual on the White House grounds wearing acid wash, high-waisted, boot-cut jeans. 
Although acid wash jeans were relatively prevalent at the time (Cindy Crawford kinda wore them in her iconic Pepsi ad), Clinton was like their #1 most famous fan.
Oh, and did we mention she may have been the first first daughter in the history of time to bravely rock tie-dye? Well yeah, she might have been. 
Like many style icons before her, Clinton really loved her turtlenecks. 
It is a well-known fact that turtlenecks are chic as hell. Think Audrey Hepburn. Think Marilyn Monroe. Think Jackie Kennedy. They were all stylish women who happened to know that covering your neck somehow magically makes you look hella good. But another woman to add to this list of turtleneck lovers is, of course, Chelsea Clinton, who learned of their power when she was just a wise teen. 
She had one in just about every color. Black. Grey. Cream. White. Blue. Red. Green. Brown. She knew, like Hepburn and Monroe and Kennedy, that they are one of the more universally flattering garments, so she wore one every single chance she could, through her father's first and second terms. 
Clinton loved sweatpants even more than you do.
Sweatpants were the athleisure of the early '90s. They were created for the purpose of working out while still being extremely comfortable, and Clinton was, rather surprisingly, their biggest fan. During casual bike rides and excursions with her family, she would often wrap herself in cotton and fleece from head to toe, becoming the picture of very, very casual, very, very chic. 
Just 10 years later, Clinton's signature look got the high-ish fashion treatment largely thanks to Juicy Couture, which outfitted the likes of Britney Spears and Paris Hilton in fuzzy sweatsuits. Even now, in 2016, Juicy Couture is poised for a comeback. 
Now, if only Clinton's most notable style legacy was having a comeback too...
Clinton had one of the most amazing (and relatable) hair transformations in history. 
OK, let's talk about the hair. When her father first entered the White House in 1993, Clinton had big, frizzy, curly, highly unmanageable hair. Think Carrie Bradshaw on a very, very humid day. But as the years ticked on and people continued to watch her mature, it would be her hair evolution that was the most talked-about aspect of her life. 
During her father's first term, Clinton didn't care much about taming it. It would frizz and blow up to double its size. During her father's second term, she cut it short and started to comb in mousse or gel, something that could cut down the frizz factor. 
But then, just a year after she left the White House, Clinton made the change. As a 2002 Guardian article put it, she was "going straight." 
"Gone, most significantly, are the ringlets," the Guardian wrote. "In their place are a black Versace trouser suit, vampish, Sophia Loren eyeliner and a bob of fanatically flattened hair." 
Much like many women with curly hair before her, Clinton finally found a routine that worked and decided that it was time to make straight hair her new signature. Since then, there have been occasions that she's stepped back into her curly phase, but it's clear that she's found a system that she likes. In many senses, she showed girls the world over that it is, firstly, totally cool to embrace your natural waves, and also cool if you ever want to change them too. 
So, thanks to Chelsea Clinton, we got oversized suits, sweatpants and massive acid wash jeans. We also learned how to wear a turtleneck at every possible occasion. Oh, and she offered all of us hope that one day, we will crack the code and finally find the hair of our dreams. For that alone, we should all be very thankful. 
Read more: