The Organizers of Woodstock Have Accused the RNC of Adopting Their Original Logo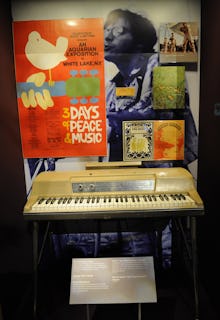 The 1969 Woodstock Music and Art Fair was an epic, three-day festival celebrating peace, love, and groovy vibes, while the 2016 Republican National Convention in Cleveland was a multi-day celebration of American flags, racism and Melania Trump-generated controversy. 
But it turns out that the two events may have something in common after all — Woodstock Ventures, the organizers of the original Woodstock, accused the RNC of stealing the original Woodstock logo in a blog post this week. And the organizers of Woodstock are asking that, in exchange for using their design, the RNC consider adopting some of Woodstock's values.
The Woodstock logo depicts a white dove perched on the neck of a guitar while the 2016 RNC logo, unveiled back in November, shows a red elephant walking on the neck of a guitar. In announcing the RNC logo, which was designed by Falls Communications, the GOP didn't mention any connection to Woodstock — the guitar is supposed to be a "nod to Cleveland being home to the Rock and Roll Hall of Fame."
But Woodstock Ventures thinks the two logos seem awfully similar. In the blog post, Joel Rosenman, a co-producer of the 1969 Woodstock Festival, said that the Woodstock logo symbolizes "equality, community, activism and environmental protection."
"These are universal values that we encourage the RNC, and all Americans, to adopt in today's politically charged and chaotic times," Rosenman said. "Our country could use a little more community, unity and love right now."
Michael Lang, another co-producer of the original Woodstock, also had some strong words for the GOP. "Since Woodstock stands for world community, Woodstock does not endorse building walls between nations," he said.
Woodstock stands for equal rights; so we do not endorse prejudice or discrimination. Woodstock stands for equal opportunity for all of us; so we do not support tilting the playing field to favor a privileged few. If these principles, which Woodstock does not endorse, turn out to be the principles that make up the GOP platform, then our logo designs would be the only thing we have in common.
Read more: