Marvel Owns Comic-Con With Teasers for 'Luke Cage,' 'Iron Fist' and 'The Defenders'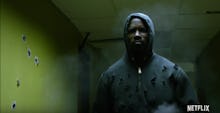 With all the talk of Marvel's expansive cinematic universe, it's easy to forget that the company has some of the most lauded television series on Netflix. But at San Diego Comic-Con, Marvel reminded its fan base — and Netflix users — that the streaming service is taking it to the next level: with its own, Avengers-esque team of heroes based in New York City. 
One of these heroes already made an appearance in Marvel's Jessica Jones series, but now Luke Cage will have his own origin story and series, based in Harlem. Marvel provided a teaser for the series set to Wu-Tang Clan's "Shimmy Shimmy Ya," and executive producer Cheo Hodari Coker called the show a "Wu Tang-ification of the Marvel universe." 
Eager fans won't have to wait long for Luke Cage, either. The series arrives on Netflix Sept. 30 — and in the meantime, the teaser includes a fight sequence with the titular character that's reminiscent of Daredevil's praised hallway fight scene.
Additionally, Marvel unveiled the first teaser trailer for Iron Fist — though unlike Luke Cage, that series has been met with controversy ahead of its release. The comic book iteration of the character is white, despite him being a martial arts master, so fans had hoped Marvel would right a previous wrong and cast an Asian-American actor. Instead, we're presented with white Game of Thrones actor Finn Jones as Danny Rand.  
Seeing the teaser — which is just brief glimpses, though the cinematography looks promising — Iron Fist could've easily been played by an Asian-American actor. After all, we see Rand wake up from a plane crash as Asian monks look down on him. 
Currently, Iron Fist does not have a release date set, so take the "coming soon" promise from Netflix with a grain of salt. 
But looking at the big picture, Iron Fist and Luke Cage will eventually team up with the already established Jessica Jones and Daredevil as The Defenders. So Marvel capped off its Netflix lineup by releasing a delightfully vague teaser for the crossover series. 
There's no footage from the show, but it does hint that Daredevil's shady mentor, Stick, will chastise the team for trying to save New York City from some tangible threat. "You think the four of you can save New York?" Stick posits in a voiceover. "You can't even save yourselves."
We'll likely know more about all of these series in the coming months, but the teaser revealed that The Defenders will debut on Netflix in 2017. With that, Marvel affirmed that its television timeline is equally impressive as its big screen properties.
Read more: