Save on Hotels and Get Sweet Room Perks With These 3 Genius Travel Hacks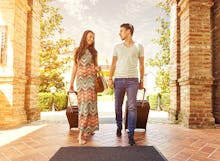 Good news for travelers looking for a cheap place to stay this summer: Hotels are feeling more pressure than ever to be accommodating — and open to negotiation.
That's because hotel guests have gotten used to perks like free Wi-Fi and breakfast, and are starting to expect more, according to the results of a new survey from J.D. Power and Associates. The market research company looked at hotels across several different price points, ranking them by customer satisfaction scores.
"When guests no longer see added value in the quality of amenities they receive, the only option to truly differentiate a brand is to develop a strong service culture that makes guests feel special and appreciated," Rick Garlick, J.D. Power global travel and hospitality practice lead, said in a press release.
Put simply: Hotels are realizing yesterday's perks are no longer cutting it — so they are more likely to go the extra mile to turn you into a happy (and returning) guest. 
Here's how to maximize your hotel room dollars by using this trend to your advantage.
Call ahead and negotiate
Incognito browser settings are a travel hacker's best friend when it comes to booking cheaper airfare, and the same can sometimes be true for booking hotels, particularly in foreign countries.
Many hotels overseas have a separate site for English-speaking travelers — and if you use a translator to compare the prices in English with those offered to locals, you might find a discrepancy.
But if that doesn't work (or you aren't traveling abroad), just pick up the phone and call.
General managers are often authorized to provide reduced rates upon request, especially if you're staying for more than just a couple of nights.
Just be polite.
"Especially if you ask nicely... in more cases than not they'll look for opportunities to provide you with better value and better service," Brian Hoyt, a spokesperson for the travel review site TripAdvisor, said.
Ask to see multiple rooms 
Sometimes hotels try to get rid of their worst rooms first, since those are harder to fill.
But even if your room seems fine, it can never hurt to ask to see a second or even a third option: You might discover you can get better views from the window — or a bigger bathroom, for example. 
To make sure you don't end up paying more for the new room, try to avoid certain language, including the word "upgrade" — especially when other guests might be within earshot.
Try requesting a "corner room," or a "similar room in the same price-range" instead.
Think outside the box 
Don't be shy: Say hi to the concierge and find out if the hotel offers any perks, which can be unexpectedly cushy.
The Ritz-Carlton in New Orleans, for instance, offers a "hangover concierge" that includes a Bloody Mary, spa package, fruit, and aspirin (naturally).
"The concierge is one of the most underutilized resources in travel today, in my view," Hoyt said. 
Asking nicely might not just get you a discount on perks — it can also score you discounts and freebies.
On a recent stay at a Best Western Plus, for example, I asked and got the front desk to give me an extra 10%-off coupon to the hotel restaurant for a buddy I invited to breakfast.
Read more: