Balmain Teams With Kanye West and Kim Kardashian West for Most Ambitious Campaign to Date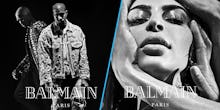 Are the lines between fashion and music as distinct as before? With the surprise release of Kanye West's new video "Wolves" serving a dual role as a campaign video for Balmain's Fall/Winter 2016 collection, the delineation has been blurred, if not removed altogether.
The partnering of two of the most prolific celebrities of our time, Kim Kardashian West and Kanye West, with French fashion house Balmain under the creative direction of Olivier Rousteing is akin to when Uncle Jesse swung open the door to reveal Steve Urkel in his doorway in a 1991 crossover episode of Full House; recognized entities so equally in the zeitgeist that, when they are brought together, only serve to charge one another by their popularity — and in the former's case: profitability.
"For Balmain, the plurality of Kim and Kanye's careers and open-mindedness of their work fits perfectly with the diversity we strive to represent for the house," Rousteing said in an interview.
Most recently, the couple walked the red carpet at the Met Gala, both outfitted in custom Balmain; Kim in an exposed corset, long-sleeve metallic dress and Kanye in a crystal-encrusted denim jacket. Vogue called them the Met Gala's best-dressed couple. 
Prior to that, West and Rousteing collaborated on a series of Balmain x Yeezy pieces worn by the entire Kardashian-Jenner clan during West's New York Fashion Week spectacle at Madison Square Garden in February. Perhaps most notably, Kim and Kanye were featured in Balmain's Spring/Summer 2015 menswear campaign.
But it's Balmain's Fall/Winter 2016 campaign that marks the most stark, meditative and self-referential collaboration to date. With it, the collective brands have managed to do something long attempted, but seldom exacted: the cross-pollination of both music and fashion.
Music and fashion aren't exactly strange bedfellows — runways aren't walked in silence after all, and models have made guest appearances in music videos since the '80s (see: Michael Jackson, George Michael). What makes this campaign particularly striking is its clear distinction from traditional fashion campaigns, at least in comparison to the work of Rousteing's contemporaries. This campaign is a music video, a glorified and glammified music video for Kanye's track "Wolves," off his latest album The Life of Pablo.
While often criticized by the fashion world, West has long experimented at the intersection of music and style, most recently hinted at when he debuted TLOP during his Yeezy Season 3 fashion show in February. In that instance: The profusion of elements — nearly 1,000 models; a livestream projected to about 20 million; the now-typical hoopla that surrounds any event that brings the entire Kardashian-Jenner clan under one roof — in many ways served to distract from an acute dissection of what he had truly accomplished. 
In the seven-minute video released Friday, the chaos from the myriad of sensory experiences finally strikes a lush harmony. And that can largely be credited to the mastermind behind the scenes, Pascal Dangin, known throughout the fashion industry as the "Photo Whisperer." 
Under Dangin's creative direction and photography by Steven Klein, the #BalmainArmy is back in formation, including past recruits Kylie Jenner, Cindy Crawford, Jourdan Dunn, Alessandra Ambrosio, Joan Smalls, Riley Montana, Anna Cleveland, Maria Borges, Ronald Epps, Jordan Barrett, Sasha Luss, Sara Sampaio, Ysaunny Brito, Dilone, Josephine Skriver, Francisco Lachowski, Jon Kortajarena and Romee Strijd. 
"I wanted to do the campaign with Prince," Dangin said in an interview, "but sadly, Prince passed." That's when the creative team had a thought: With the success of their last campaign featuring '90s supermodels Cindy Crawford, Naomi Campbell and Claudia Schiffer, what riper time to once more cull from the past? Really, this is not Kanye West of the past, but rather a meditation on his evolution — as a musician, as a designer, as a husband. 
In the last year, West has made leaps to further legitimize himself as a style icon and earn the praise of an industry that was once in fervent rejection of him. That tide has begun to change. Business of Fashion, for instance, called his Yeezy Season 3 "evolutionary sportswear." Meanwhile, searching "What Kim Kardashian wore" on Google results in nearly 3.5 million results.
More simply: "Kanye's positioning is relevant," Dangin said. "Like it or not he is part of today's culture. Am I attempting to bring a new message, show a new message about their love for one another? Perhaps."
Though the lyrics make grand parallels between the lives of Joseph and Mary and those of Kim and Kanye (which articulates the larger-than-life bravado the two are known for), the video helps ground their affection for one another with honesty.
While the lyrics paint a bleak reality to life as the internet's pre-eminent love story, the final frames of the short film — which see the pair exiting May's Met Gala after-party — serve to show their resilience as a fully formed entity, one unbitten by West's proverbial wolves.
Watch the full video below:
Correction: July 29, 2016
Read more: