Hackers Can Hijack Your iPhone With One Text — Here's How to Block It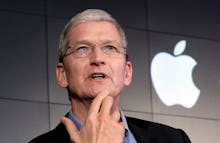 There's finally a reason for you to update your operating system and stop tapping "remind me later." If you don't, beware: Hackers gonna hack hack hack hack. 
If you're an iPhone owner, you need iOS 9.3.3 right freakin' now. Stop what you're doing and go to Settings, General and then Software Update. Hurry.
What happened? A security flaw in Apple's software has allowed hackers to take over iDevices that haven't been updated with the latest operating systems. 
What that means for Apple device owners is that a hacker can send you a malicious message and then remotely run their own code on your device. Tyler Bohan, the researcher who discovered the vulnerability, pointed out the attack is accessible through any app "that makes use of the Apple Image I/O API when rendering tiled TIFF images" — which includes messages, MMS messages, Safari, Mail and others.
Because messages attempt to automatically render images, hackers could infiltrate your software just by sending a message to a device that hasn't been updated — simply ignoring a suspicious text won't protect you from the vulnerability. 
If you have an iPhone, iPad, Mac, Apple TV or Apple Watch — all of the devices vulnerable to the hack — you need to update your operating system. 
Apple released iOS 9.3.3, OS X 10.11.6, tvOS 9.2.2 and watchOS 2.2.2 on Monday to address the bug, the Guardian reported. 
Apple highlights some of the vulnerabilities your phone is at risk for in its security page for the iOS 9.3.3 update — and oh boy do they sound bad! 
Hackers can send you a malicious calendar invite and restart your device. They can run their own code. "An attacker in a privileged network position may be able to cause a relayed call to continue transmitting audio while appearing as if the call terminated," the page noted. And a bunch of other terrible, horrible, no good, very bad vulnerabilities.
Update your damn device. 
However, the update is only available for the iPhone 4s and up, so if you haven't gotten a new phone in a few years... good luck! 
Read more: