Munich Mall Shooting: 9 Killed After "Shooting Spree," Shooter Dead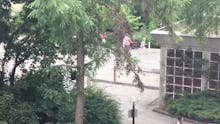 German authorities reported that a shooting at a Munich shopping center McDonald's has left at least 10 dead, including the shooter, and 16 wounded, according to the Associated Press. The shooter, an 18-year-old man named Ali Sonboly, whom authorities believe to have acted on his own, killed himself after the attack, AP reported. His body was found over two hours after the rampage. CNN characterized the incident as a "shooting spree."
The AP initially reported that there may be multiple shooters involved, citing witness accounts of three armed suspects in the area, but later reports suggested that the shooter, who reportedly had duel German and Iranian citizenship, was working independently. 
The violence reportedly started when shots were fired at a McDonald's in the Olympia Einkaufszentrum mall around 6 p.m. local time. The wire service reported that all public transit in Munich has been shut down. The U.S. State Department issued an emergency release on Friday warning U.S. citizens in Munich of "active shooters" and encouraging Americans to "shelter in place," reported ABC News in a tweet. 
Early Saturday morning, local time, German police gave the city a "cautious all clear," the AP reported.
This story is breaking and will be updated.
July 23, 2016, 10:22 a.m.: This story has been updated.