Best iPhone Games You Can Play Without Wi-Fi or Data: Your Subway Rides Don't Have to Suck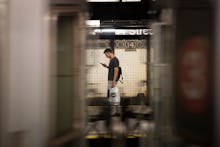 Deep in the depths of the underground, where the rats are aplenty, the Wi-Fi is scarce. The same goes for most airplanes. You could read a damn book, but if you'd rather gaze lovingly into your smartphone screen, there are some apps that can give you an LED fix below street level. In other words, they require no data or internet connection. They even work in airplane mode. Soak in the pixels, baby.
Candy Crush Saga
You don't need internet to collect sugar drops in the Candy Kingdom. Just try not to spend away your life savings; no sweet tooth is worth a trip to the loan officer. 
2048
If you're into massaging your math muscle with some basic addition, this sliding-block puzzle game is a good way to pass the time. 
NYTimes Crossword
The crosswords from the daily newspaper are also available in app form. Woot! Be more conspicuous in your failed attempts to complete the high-brow puzzle by substituting the big-ass newspaper for your 5-inch screen. 
Dots & Co
If you loved the beautifully designed Dots games, the company behind them has a new game: Dots & Co, which is reportedly a bit more challenging with more narratives than its predecessors. 
Sudoku 
Challenge your beautiful brain with the digital version of Sudoku. Like the aforementioned NYTimes Crossword app, this is a less wieldy alternative to carrying around the analog version. 
Solitaire
LOL, were you going to bring a deck of cards on the train? No. Download the Solitaire app instead. 
Catan 
LOL, were you going to bring a board game on the train? No. Download the Catan app, nerds. Mic editor Cooper Fleishman approves. 
Monument Valley
If you must stare into your phone screen during your commute, the Monument Valley app is possibly one of the most beautiful games at which you can gaze. It's good enough for Frank Underwood. 
These apps aren't games, but they're just as entertaining (and don't need data or Wi-Fi)
Spotify
If you pay for a monthly subscription of Spotify, you can download music to listen to offline — without ads. 
Pocket
Pocket lets you aggregate articles, videos and "pretty much anything" from Twitter, Flipboard and more so you can read them later, no internet needed. 
Read more: