'Bachelor' Ben Higgins' Colorado Congressional Run Just Ended Abruptly — Here's Why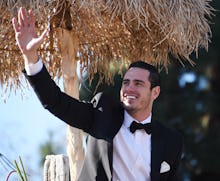 Even the most dramatic rose ceremonies have nothing on this plot twist: Former Bachelor Ben Higgins has dropped out of the race for a legislative seat in Colorado.
For those who didn't know Higgins was running for office: Don't worry, you're not that out of the loop. The Republican reality TV star filed paperwork declaring his candidacy for Colorado's House District 4 last Friday, according to the Denver Post. But his candidacy lasted just one week, as he announced in a statement Friday (sent out by ABC, which broadcasts The Bachelor) that he was already jumping ship.
"I regret that I must withdraw my candidacy," Higgins said in the statement. "Despite my best efforts to pursue this opportunity in good faith, I recently received information that has made such a pursuit unworkable. Due to unforeseen circumstances, I will not be able to move forward as a candidate."
What is this "information"? What are the "unforeseen circumstances"? Higgins doesn't say, though the statement does end with a reminder that his and his fiancée's spin-off series, Ben and Lauren: Happily Ever After, will air on Freeform this fall. It's a safe bet that we won't get answers about what happened until that show debuts.
"I find solace in knowing that our intentions and actions have been fair and sincere," his statement continues. "I entered into this endeavor wanting to bring positive change to my community, and it is with that same spirit that I will move forward, albeit on a different path." Higgins' campaign site reflects his suspension of his seven-day-old campaign.
Meanwhile, the woman Higgins told he loved before dumping her, JoJo Fletcher, is having a grand old time over on The Bachelorette. She's down to the top four and will be choosing her own pick in August. Ben and Lauren: Happily Ever After will premiere on Freeform in October.
Read more: