Celebrate National Tequila Day 2016 With 11 Tequila Cocktails That Aren't Margaritas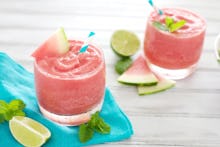 Tequila is one of the most popular spirits in the United States. Even though it doesn't really have any magical health benefits, according to a Nielson consumer survey from May, 44% of U.S. consumers named tequila as their favorite cocktail base. And what did the survey find to be America's favorite cocktail? The good old margarita, of course. 
While margaritas are delicious — and easy to drink by the pitcherful — there are many other ways ways to enjoy tequila. The spirit pairs well with a number of sweet and savory ingredients, like citrus, tomatoes, ginger and strawberries. Translation: Your cocktail options are vast. 
So think outside of the salt rimmed glass, and check out the 11 tequila-based recipes below. 
1. Bazaar Bloody Maria
The bloody maria, a riff off the bloody mary, swaps out the vodka for tequila. This colorful version stars four kinds of tomatoes, but whatever tomatoes you have on hand will do — just don't hold back on the horseradish. Get the recipe here. 
2. Tequila Mojito
A classic mojito, made with rum, mint, sugar and lime, is one of the most refreshing drinks out there. But few people know that the drink works just as well with tequila instead of rum as a base spirit. The blogger behind Delicious Everyday recommends using an aged tequila to give the drink a "subtle smoky finish." Get the recipe here. 
3. Lemon Thyme Tequila Spritzer
Think of this as a more elegant (and boozy) version of a sparkling lemonade. The drink requires making a thyme and lemon zest simple syrup, but it's worth the effort. Whip up a pitcher for your next barbecue or picnic. Get the recipe here. 
4. Tequila Sunrise Mojitos
The tequila sunrise, which is simply tequila, orange juice and grenadine syrup, is one of the most classic cocktails. Add in a hefty pour of champagne and voila! You've got a brunch time libation that looks, well, just like the sunrise. Get the recipe here. 
5. Mexican Mai Tai
The mai tai has a reputation for being a fruity, sugary and potent drink. Swapping the rum for tequila is a great way to cut the sweetness while maintaining all of the fun in the cocktail. The blogger behind A Spicy Perspective rims the glass with a homemade citrus salt for an added layer of flavor. Get the recipe here. 
6. Watermelon Tequila Slush
Sometimes you just need a boozy slushy. But instead of grabbing a Slurpee from your nearest 7-Eleven and spiking it with whatever's in your flask, consider upgrading to this drink. Blogger Kristen of Bourbon and Honey recommends freezing watermelon chunks and then whizzing them n a blender with tequila, lime juice and agave syrup for a refreshing cocktail. This could maybe count as a serving of fruit if you sip hard enough. Get the recipe here.
7. Spicy Tequila Sunrise
Those in search of an alternative to a spicy margarita should stop and sniff the spicy tequila sunrise. The classic cocktail is kicked up a notch with the addition of fresh jalapeño that gets both muddled in the drink and used as a garnish. Get the recipe here. 
8. Strawberry Chamomile Paloma
The paloma is the margarita's, simpler, more citrusy relative. The standard version combines tequila with grapefruit juice and sparkling water. This version from Half Baked Harvest gets jazzed up with a chamomile-honey syrup and fresh strawberries for a summery twist. Get the recipe here. 
9. Mexican Mule
The Mexican mule is ideal for anyone who craves the flavors of a Moscow mule but is sticking with tequila. prefer Besides forgoing vodka, this recipes also swaps out lime juice for grapefruit juice, but still relies on a heavy dose of ginger beer for a bubbly kick. Serve it in a standard mule mug, or go for a lowball glass. Either will taste phenomenal. Get the recipe here. 
10. Margarita Sangria
Sangria is one heck of a crowd-pleaser, and made with tequila it's extra refreshing. This recipe combines the booze with white wine, orange and citrus juice, triple sec and plenty of fresh citrus for a big-batch cocktail that packs in the fun and vitamin C. Get the recipe here. 
11. Coffee Tequila Cream Cocktail
Coffee, tequila, Bailey's and whipped cream. Is there anything left to be said? OK, there's some cinnamon in this, too. This creamy cocktail is a far cry from a margarita, but that doesn't need to be a problem. Get the recipe here.
Read more: