Is Liam Payne Releasing an Album? What We Know About the 1D Member's Solo Career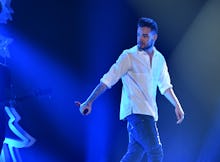 Just a month after Harry Styles announced he had signed a solo recording contract in the footsteps of Zayn Malik, One Direction's Liam Payne has done the same. On Thursday, the singer announced across social media that he'd signed with Capitol UK to launch a solo career — straining the heartstrings of his boy band's fans around the world. 
"Happy to have signed to @CapitolUK," Payne wrote on Twitter. "They have an amazing history of artists. I hope I can follow in their footsteps." He also took to Instagram with the news, writing, "One Direction will always be my home and family, but I'm very excited to see what this chapter brings." 
While it seems likely this marks the end of Payne's time as a member of One Direction, his next steps are just as unclear as when Malik left the group; fans had to wait an entire year until Malik released his transformative project Mind of Mine, an essential rebirth for the budding solo artist. 
Payne's fans might hear new music a little soon from the singer, at least on his Instagram, if nowhere else. In January, Payne posted a video showing off a quick rap verse he created "for fun." 
If Payne's path is at all similar to Malik's, his debut album will be a clear departure from One Direction's pop sound. Capitol potentially has a whole host of artists and producers that Payne could collaborate with — including Disclosure, Beck and 5 Seconds of Summer. For one, the president of Capitol Records UK, Nick Raphael, is pretty enthusiastic about the possibilities: "It's not often you get the chance to sign such a talented and ambitious 22-year-old who has already conquered the world," he said, according to the BBC.
But One Direction is still not dead, as Payne's sister Ruth Gibbins reminded the world on Twitter. 
However, there's no hard date on the end of the group's hiatus. In December, Styles told British talk show host Alan Carr, "Let's give it 18 months." Now it appears only Niall Horan and Louis Tomlinson are left without solo record deals. 
As for One Direction fans, they'll have to keep their fingers crossed. 
Read more: