'Ghostbusters' Toys Are Popping Off the Shelves — For Both Boys and Girls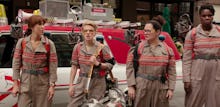 The all-female Ghostbusters reboot affirmed its legitimacy with positive reviews from critics, following the outpour of misogynistic backlash ahead of the film's release. Yes, it appears women can catch ghosts just as easily as men — with the same deft humor, of course. The franchise is also winning in another area: toy sales. 
According to a report by Variety, toy manufacturer Mattel brought in strong early sales for its Ghostbusters toy line, which, of course, features the female ensemble. Moreover, the toys have generated good figures among both boys and girls, which confirms Mattel's decision to put the toys in the boys' toy aisle was a smart choice.
"We're thrilled with the response to the new Ghostbusters toy line," Joe Lawandus, senior vice president of design and marketing for Mattel, told Variety. "The early momentum shows the product is resonating with Ghostbusters fans."
The film's success also indicates that the franchise will continue with a sequel, per Sony's president of worldwide distribution, Rory Bruer. So while the haters may continue to hate, Ghostbusters will reap the financial awards in the box office and the toy aisles. 
Read more: