Democratic National Convention 2016: Channel, Start Time and Where to Watch the DNC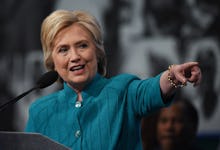 The 2016 Democratic National Convention will kick off in Philadelphia at the Wells Fargo Center on Monday, July 25, and last until the night of Thursday, July 28, when presumptive Democratic nominee Hillary Clinton is expected to take the stage and formally accept the party's nomination.
The primetime lineups for the four nights of the DNC include appearances by Michelle Obama, former President Bill Clinton, Vermont Sen. Bernie Sanders and President Barack Obama.
Start time:
The first day of the convention is expected to begin at 4 p.m. Eastern, Politico reported. Tuesday, Wednesday and Thursday's programs are all expected to begin at 4:30 p.m.
Where to watch:
The DNC's official website will offer a livestream, and ABC, NBC and CBS will all start primetime coverage of the DNC at 10 p.m. on Monday and continue nighttime coverage throughout the week. There is also an official DNC app for both Android and iOS that will feature schedules and news throughout the convention.
July 25, 2016, 3:01 p.m.: This story has been updated.
Read more: