DJ Khaled, Kendrick Lamar, Big Sean and Betty Wright Drop the Long-Awaited "Holy Key"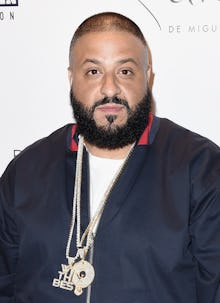 DJ Khaled said he was going to deliver the summer's hottest anthems. So far — he's delivered. Friday, he premiered his latest banger on Apple Music's Beats 1 Radio, "Holy Key," featuring verses from Kendrick Lamar, Big Sean and some gospel magic from the legendary Betty Wright.
Both rappers go in over the song's stuttering, lo-fi beat, spitting about positivity, faith, trials and tribulations. "I don't wear crosses no more," Kendrick spits. "I ain't scared of losses no more/ I see life in that." 
Listen here via Apple Music.
It's the third single off his long-awaited ninth studio album Major Key. It follows "For Free" featuring Drake and "I Got the Keys," uniting old god Jay Z and new, Future. Each showcased Khaled's tastes for maximal, trap production and simple hooks in all their glory, but "Holy Key" was the one he wanted fans keeping their ears out for.
"I want to be clear. Kendrick Lamar went so hard," Khaled told his Snapchat followers earlier this week, according to High Snobiety. "His verse I feel like is gonna be one of the most talked about verses. Also, I wanna be super clear. I got this Big Sean verse. Aw man, it's so crazy."
The two rappers have already proved their volatile chemistry previously on "Control," the song that changed the course of hip-hop in the 2010s. "Holy Key" isn't remotely as confrontational, but Lamar still spazzes, dolling out his pained, exasperated flow and several others.
Twitter was quick to heap praise on the track, bringing out all the emojis to express its power.
We'll see if the hype continues through Major Key's drop, which will premiere exclusively through Apple Music on Friday July 29th.
Friday, July 22, 9:20 p.m.: This story has been updated.
Read more: