What's VP Pick Tim Kaine's Stance on LBGTQ Rights? Like Clinton, Kaine Has Evolved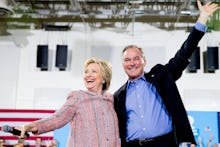 Presumptive Democratic nominee tapped Virginia senator and former Virginia governor Tim Kaine to be her vice president should she be elected in November. Clinton and Kaine will run against Republican nominee Donald Trump and Indiana governor Mike Pence, whose abysmal LGBTQ rights record leaves a lot to be desired and raises a lot of objections. 
It's not hard to fare better than Gov. Pence on LGBTQ rights, but a look at Kaine's record shows that, while he's been a long time supporter of equality before the law, he's evolved on a few of his stances over time — just like Clinton. 
Kaine has always believed in equality before the law, but not so much in marriage equality. 
In 2001, then-Richmond mayor Tim Kaine, running for lieutenant governor, said that he believed gay couples should be afforded all the same "civil benefits" married couples enjoy. At the time, the Washington Blade pointed out that he was the only candidate for lieutenant governor in Virginia that backed any kind of LGBTQ equality before the law. 
However, he did not back gay marriage, which was not uncommon in 2001. 
"I have never said I supported gay civil unions, gay marriages," Kaine told AP in 2011. "I do believe that people shouldn't be kicked out of their jobs or discriminated against because of who they are."
Kaine has fought for workplace equality for at least a decade. 
It seems like a weird question, but do you know what Kaine's first order of business was when he entered the governor's office in Virginia in 2006? According to the Washington Post, Kaine issued an executive order protecting state employees from workplace discrimination on the basis of sexual orientation. 
When Virginia's Republican attorney general requested that Kaine repeal the executive order, saying it was unconstitutional, Kaine said: "I'm not going to tell my Cabinet secretaries and agency heads that they are now free to discriminate." 
Kaine has been a fan of gay adoption since 2011 — with one caveat. 
For at least 5 years, Kaine's position has been that gay couples should be allowed to adopt children, as long as a "judge deems it is in the best interests of the child," the Washington Post reported in 2011. 
"I think the best interest of the child is a pretty hard standard to argue with and I think that ought to be the standard," said Kaine, who was then a candidate in the Senate primary race in Virginia. 
Kaine backed marriage equality since 2013. 
One of the things that Kaine and Clinton share is that they both backed marriage equality in 2013 — a date that many think was too little, too late. According to LGBT newspaper the Washington Blade, Kaine gave marriage equality his unequivocal endorsement. 
"I believe all people, regardless of sexual orientation, should be guaranteed the full rights to the legal benefits and responsibilities of marriage under the Constitution," Kaine said in a statement. "I hope the Supreme Court will affirm that principle."
Just one year prior, Kaine was hesitant to use that label, but still backed legal equality. 
"I believe in the legal equality of relationships," Kaine said, according to the Washington Post. "The debate about, you know, is it marriage? Is it civil union? Is it domestic partnership? I just kind of let that one go and say should committed couples be treated the same by law, and I think the answer is yes."
The Human Rights Campaign gave Tim Kaine a 90% rating for supporting LGBTQ-friendly legislation in the 113th Congress, which served from 2013-2015.
The only two pieces that Kaine did not side with Human Rights Campaign on at the time of the publication of their report were the the Student Non-Discrimination Act and the Safe Schools Improvement Act. However, between the time of the report's publication and today, Kaine co-sponsored both bills, which made public schools a better environment for LGBTQ children. 
Kaine's career of helping LGBTQ people gain equality before the law stands in stark contrast to Mike Pence, who values religious freedom over legal protections, believes marriage equality will cause a "societal collapse" and advocated defunding nationwide HIV prevention and funding conversion therapy. 
Read more: