Mike Pence vs. Tim Kaine: How the Vice Presidential Picks Stack Up on the Big Issues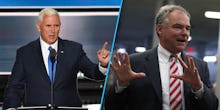 The 2016 presidential tickets have been finalized.
On Friday night, Democratic candidate Hillary Clinton announced that Virginia Sen. Tim Kaine would join her on the ballot in November as her as her pick for Vice President. The pair will square off against Republican presidential nominee Donald Trump, who named Indiana Gov. Mike Pence as his running mate on July 15.
Ahead of this October, when Pence and Kaine will meet onstage at Longwood University in Virginia to participate in the sole vice presidential debate, here's where both candidates stand on some of the big issues.
LGBTQ Rights
Pence, an evangelical Christian, isn't just against both same-sex marriages and civil unions — he has a track record of sponsoring legislation with damaging implications for the LGBTQ community. In 2007, he voted against the Employee Non-Discrimination Act, which sought to "prevent job discrimination based on sexual orientation," according to Mother Jones.
Kaine, despite being hailed by the Clinton campaign as one half of a ticket with "unprecedented" support for the LGBTQ community, has a less-than perfect track record when it comes to gay rights. While Kaine and Clinton backed marriage equality in 2013, many consider it too little, too late.
Immigration
Pence's track record on immigration is roundly conservative, and include a sponsorship for a bill denying citizenship to the children of undocumented immigrants during his tenure as a Congressman.
Although Pence — like Trump — opposed the resettlement of Syrian refugees in Indiana during his time as governor, he called Trump's proposed ban on Muslims in the United States a bridge too far, tweeting that the suggestion was "offensive and unconstitutional."
Kaine, on the other hand, supports the same comprehensive immigration protections that Barack Obama has long advocated for, including the option for full citizenship for undocumented immigrants as long as they pay taxes and a fine for entering the country illegally.
Abortion
Pence has long been one of the most vocal anti-choice crusaders in the United States, and has openly waged war on Planned Parenthood in his home state of Indiana. In 2011, he also said that he "... long[s] for the day that Roe v. Wade is sent to the ash heap of history, when we move past the broken hearts and broken minds of the past 38 years." 
Kaine, meanwhile, despite being a devout Catholic who is personally opposed to abortion, has steadily voted in favor of policies supporting a woman's right to choose since becoming a senator in 2012, according to Politico. 
Read more: