Bizarre 'Star Trek Beyond' Review Mocks Anton Yelchin's Death, Calls Zoe Saldana "Foxy"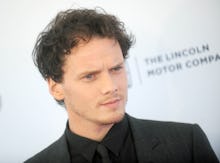 The death of Anton Yelchin, the star of the just-released Star Trek: Beyond remains fresh in the mind of those who worked on the film and fans ready to fill seats this weekend. However, at least one movie reviewer seemed to be making light of Yelchin's death in a deeply critical review of the film. 
"It would be unfair to point out that Anton Yelchin is not very good as Chekhov, the ship's navigator, since he died last month in California, aged just 27, squashed at home by his own Jeep Grand Cherokee, so I won't do that," David Sexton wrote in a review of the film for the UK's Evening Standard.
J.J. Abrams, director of the first two rebooted Star Trek films, wore a pin to the film's red carpet premiere to honor Yelchin's memory. The filmmaker also wrote an open letter to Yelchin in advance of the film's premiere. 
"Anton — you were brilliant. You were kind. You were funny as hell, and supremely talented," Abrams wrote, the Evening Standard reported. "And you weren't here nearly long enough. Missing you ... J.J."
The more-than-a-little-salty Standard review takes unnecessary barbs at other actors in the film — and the franchise —  beyond Yelchin. None of them have anything to do with the quality of the film. 
While praising Chris Pine's performance as Captain Kirk, Sexton writes that many fans are probably upset that the 85-year-old originator of the role, William Shatner, has become "distinctively a larger gentleman as time has passed, not ideally suited to the tightest of Lycra perhaps." Glad to know it's not just women who have to adhere to impossible body standards! 
He calls star Zoe Saldana "foxy" and does not comment on her acting ability at all. 
Sexton calls writer Simon Pegg's decision to write the character Sulu as gay an "obligatory micro-gay cameo" and points to three non-western countries — Iran, Turkmenistan and Singapore — that will probably edit out the footage from the movie because they will be "unreceptive to such loving relationships."
Usually someone whose job entails watching and reviewing movies has a lot of knowledge about filmmaking. So why comment on a young actor's death, Zoe Saldana's body or countries that have homophobic laws? Perhaps next time, stick to the script, the filmmaking and only comment on the actors if it's about their acting ability — and no need to speak ill of the dead. 
Read more: