Tim Kaine Speaks Spanish, But Latinos Need More Than That to Be Impressed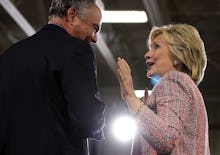 As news broke Friday that presumptive Democratic nominee Hillary Clinton chose Virginia senator Tim Kaine as her running mate, several media outlets touted his Spanish-speaking credentials as one of the main reasons that Kaine won the Clinton veepstakes. 
New York Times political writer Maggie Haberman tweeted out, "Can't overstate significance of Dem. VP nominee spending next few weeks giving interview to Hispanic media in Spanish." 
According to the New York Times, Kaine is also the first Senator to deliver an entire speech in Spanish on the floor of Congress. The speech supported immigration overhaul. 
However, several Latinos responded to Haberman's tweet that it would take more than a Spanish-speaking white guy to impress them. 
Many Latinos and non-Latinos on social media used their accounts to express dissatisfaction with people touting "speaking Spanish" as actual credentials with the Latino community. 
As many on Twitter pointed out, Kaine speaking Spanish does not translate to any help with the Latino vote. It just puts him in the same club as Republican also-rans Sen. Marco Rubio, Sen. Ted Cruz, Florida governor Jeb Bush and former president George W. Bush. 
Given Trump's anti-Latino rhetoric and his abysmal polling numbers among Latinos, Clinton doesn't need to worry too much about getting Latino voters. However, to be an effective leader, Clinton still must practice thoughtful engagement with the Latino community, which is growing and full of young millennials. 
Clinton has previously stumbled in her campaigning toward Latino voters. In December, an article on her website enumerated the ways she is "just like your abuela," though the article was later changed. The article birthed the hashtag movement #NotMyAbuela. 
On Wednesday night at the Republican National Convention, Kentucky state congressman Ralph Alvarado Jr. spoke Spanish and was reportedly booed by the crowd. Trump previously made fun of Jeb Bush for speaking Spanish to appeal to voters. 
As politicians continue to look for ways to outreach to Latinos, the Latino community waits for someone who does more than just speak Spanish — they're waiting for someone who engages with them as whole people, not just a language.  
And they're also possibly waiting for someone who loves Selena. 
You can watch a video of Kaine's Spanish address to Congress below. 
Read more: