Hillary Clinton and Donald Trump's VP Choices Speak Volumes About How They'd Lead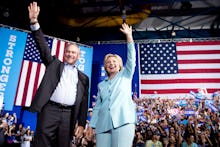 Hillary Clinton announced Sen. Tim Kaine as her vice presidential running mate Friday night, sharing the decision in a tweet and text to supporters with little fanfare and little drama to boot.
Next came a Saturday afternoon rally, in which Clinton touted the largely unknown Kaine as a man of faith and progressive principles, and made clear she views him as a partner in governing.
Republican presidential nominee Donald Trump, on the other hand, awkwardly rolled out Indiana Gov. Mike Pence as his running mate following a process marred by delays and indecision.
The announcement was followed by a cringe-worthy sit-down on 60 Minutes, where Trump interrupted Pence to answer questions for him that it barely left any time for Pence himself to speak.
Democrats and Republicans alike say the differing ways in which the two candidates interacted with their running mates says a lot about how each candidate would govern if elected to the White House.
"The common denominator between Trump and Clinton was that they picked Pence and Kaine to help them get things done in Washington when they're president. That's where the similarity ends," Democratic strategist Mary Anne Marsh said. "Pence is someone who has an ... ability to be helpful to Trump, and Trump treated him like the hired help these last few weeks. Whereas just what you've seen with Kaine today, Clinton views him as a full partner in all of this."
Trump's arranged marriage: While Trump's introduction of Pence as his pick was hardly seamless, some pointed to the choice as a sign Trump was serious about winning the White House.
"For Trump, choosing Pence shows he's at least willing to listen to other ideas," said Nathan Gonzales, a non-partisan political analyst. "I would bet Donald Trump had no idea who Mike Pence was two years ago, and now he's on the ticket with him. He received advice that Pence would be a good pick, and he took it."
As a governor with ties in Washington dating back to his congressional service, Pence could help Trump push his agenda through Congress.
"Mike Pence comes from the heart of the conservative movement — and the heart of America," Speaker Paul Ryan said in a statement after Trump chose Pence. "I can think of no better choice for our vice-presidential candidate."
But since the announcement, Trump's love of showmanship and inability to stay on message has outshone and even contradicted Pence.
In the 60 Minutes interview, Pence said Trump would protect America's allies in NATO, only to have Trump squash that idea days later in an interview with the New York Times.
And even in his presidential nominating acceptance speech at the Republican National Convention in Cleveland, Trump said "I alone can fix this" — a sign that even if Pence were to go to Capitol Hill to speak for Trump and his plans, it's likely that the only words that would matter would be the ones out of Trump's mouth.
"In the end, Trump thinks he's going to cut all the deals," Marsh said. "He'll dispatch Pence to go to the Hill and actually have the conversations, but it will be Trump that cuts the deal in the end."
Kaine is able: In the hours since Clinton announced Kaine as her running-mate, Kaine has received bipartisan praise for his conduct as an elected official.
Republican Sens. Jeff Flake of Arizona, Lindsey Graham of South Carolina and Pat Toomey of Pennsylvania all praised Kaine as a good man — a rare admission in a hyper-partisan climate.
And Clinton has made clear that Kaine will be her partner in governing.
At the pair's first campaign event as running mates, Clinton spoke of their shared values, both personally and politically.
She said her belief is that a vice president should be able to step in to be the president, a sign that she views Kaine as an extension of herself, rather than someone who merely checks certain boxes.
"As I've said many times, the most important qualification when you are trying to make this really big choice is, can this person step in to be president," Clinton said before Kaine took the podium. "At every stage of Tim's career, the people who know him best have voted to give him a promotion, and that's because he fights for the people he represents and he delivers real results."
Marsh said that sends a signal to members of Congress that Kaine's word in negotiations will be Clinton's word, something that would help in governing.
"If he says it, she means it," Marsh said, referring to Kaine's ability to negotiate on Capitol Hill.
Read more: