ISIS Takes Credit For Suicide Bombings in Kabul That Kill At Least 80 and Wound 230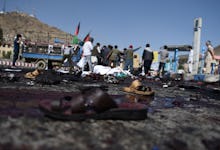 At least 80 people died and more than 230 others are injured after suicide bombers targeted a protest in the Afghan capitol of Kabul, USA Today reported on Saturday.
The Islamic State group, or ISIS, has claimed responsibility for the attack, wrote the magazine, which targeted demonstrators of the predominantly Shiite Hazara ethnicity as they were "demanding that a major regional power line be rerouted through their impoverished home province" of Bamiyan.
"The attack was carried out by three suicide bombers," the Afghan Interior Ministry told the New York Times in a statement. "The first person carried out a blast, the second one failed at his detonation, and the third terrorist was killed in shooting by the security forces."
Officials are working to determine who is behind the attack, but if the ISIS claim is verified, it would be the first such ISIS attack in Kabul, according to USA Today. The group has a stronghold in eastern Nangarhar province, wrote the Times, and some officials believe ISIS may be retaliating against the central government in Kabul for a U.S.-backed ground war against the group's presence in Afghanistan.
President Ashraf Ghani announced a day of morning and told his fellow Afghans the bombings were a "cowardly attack on the freedoms of our citizens," reported the Times.
Other recent attacks in the capitol blamed on another group, the Taliban, killed 34 people while targeting Afghan police training graduates on June 30, as well as 14 Nepali security contractors working for the Canadian embassy on June 20.