Brie Larson, Star of "Room," Announced as Captain Marvel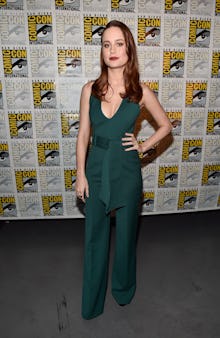 Academy Award-winning actress and overall badass Brie Larson is officially gearing up to play Captain Marvel's titular character — a role that makes her the first woman in Marvel Studios' history to helm her own franchise.
After months of speculation about the film's casting, Larson joined other members of the Marvel family onstage at San Diego Comic Con on Saturday for the big announcement. A crowd assembled for the studio's Hall H panel can be heard in the background roaring their approval.
When Marvel Studios president Kevin Feige first announced the project back in October 2014, E! News reports, he did not mince words: this version of Captain Marvel would be a woman.
"Let me clarify," Feige said. "Captain Marvel has gone by many names in the comics, has had many people who've inhabited that costume and used that power base. I want to make it very clear: this hero's name is Carol Danvers." 
Feige added that although she is a terrestrially-based character, Captain Marvel, true to form,  has some otherworldly abilities as well. 
"Her origins are very much Earthbound, but her adventures and power base come from the cosmic realm," he said.
Captain Marvel is currently slated for a March 2019 release.
Read more: