Kim Kardashian Snapchats Herself Rapping Along to Taylor Swift "Famous" Line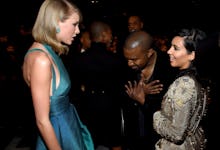 Kim Kardashian West: business woman, mother of two, dragger of Taylor Swift.
After epically exposing Swift on Snapchat, proving that Swift did in fact approve of Kanye West's line about her in his song "Famous," Kardashian West is still pouring salt in the wound.
Yes, that's Kim rapping "I feel like me and Taylor might still have sex. Why? I made that bitch famous" — the line that started this staged for publicity celebrity war. 
Swift has been mum on the leaked phone call between her and West, aside from the statement she released initially, stating "Where is the video of Kanye telling me he was going to call me 'that bitch' in his song? It doesn't exist because it didn't happen."
She should probably stay away from Kardashian West's Snapchat.
Read more: