President Obama Reconsidering Ban on Transfer of Military Equipment to Police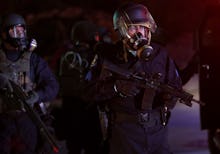 The Barack Obama administration is apparently revisiting a 2015 ban on the transfer of some kinds of military-style equipment to police in the wake of attacks in Dallas and Baton Rouge, Louisiana, which killed five and three officers, respectively, and wounded numerous others, according to Reuters.
According to USA Today, the ban on sales includes "tracked armored vehicles, bayonets, grenade launchers, camouflage uniforms and large-caliber weapons and ammunition." There are also imposed training requirements and other controls on the sale of equipment including "aircraft, wheeled tactical vehicles, mobile command-and-control units, battering rams and riot gear."
"We've seen how militarized gear can sometimes give people a feeling like they're an occupying force, as opposed to a force that's part of the community that's protecting them and serving them," President Obama said at the time of the order, according to USA Today. Obama was referring to communities such as Ferguson, Missouri, which saw demonstrations against the police killing of black teenager Michael Brown met by law enforcement officials wielding armored personnel carriers, sniper rifles, body armor and other high-grade equipment.
The equipment was formerly provided at little to no cost through a federal program designed to transfer excess equipment to police departments across the country.
However, following the attacks on police in the past month, the administration is apparently considering loosening or eliminating some of those restrictions.
Fraternal Order of Police Executive Director Jim Pasco, as well as National Association of Police Organizations Executive Director Bill Johnson, told Reuters they were among the eight police organization heads who met with the president and Vice President Joe Biden in the White House following the attack in Dallas.
As a result of the meeting, Obama requested administration legal counsel Neil Eggleston to review the rules, according to Reuters, and Pasco and Johnson believe some of the restrictions may be reversed.
"The White House thought this kind of gear was intimidating to people, but they didn't know the purpose it serves," Pasco told the news agency.
In the wake of the shootings, prominent law enforcement community members, including Johnson, have demanded the bans be repealed, according to CityLab. But not everyone wants federally-subsidized access to military-grade equipment to return.
"More guns, more military weapons, convey to residents that police are fearful and that they are not able to ensure the safety of residents," Merrimack College criminology professor Tom Nolan told Citylab. "The visible display of militarized weapons, particularly in communities of color, drives a schism between the police and the community."
Despite a spate of claims in the media that the attacks represent the dawn of a "war" on the nation's police, rates of violence against law enforcement officials have been falling for decades and reached their lowest recorded point yet under the Obama administration. 
Read more: