Rep. Debbie Wasserman Schultz Out As DNC Chair in Wake of Email Leak Scandal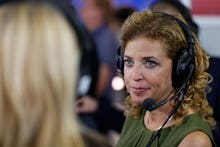 Florida Rep. Debbie Wasserman Schultz, the chair of the Democratic National Committee, resigned her position on Sunday in the wake of an email leak showing some committee staffers were hostile towards Vermont Sen. Bernie Sanders.
In a press release, Schultz wrote:
I have been privileged to serve as the DNC Chair for five and a half years helping to re-elect President Obama and Vice President Biden, strengthening our State Party Partnership in all 50 states, leading a vigorous primary election this past year while preparing for the general election and representing millions of Democrats across the country. I couldn't be more excited that Democrats are nominating our first woman presidential candidate, Hillary Clinton, a friend I have always believed in and know will be a great President.
According to the statement, Schultz will continue to serve as party chairman until after the party's nominating convention this week.
Schultz came under immense pressure to resign her position this weekend, reported CNN, as the emails seemed to validate longstanding criticism from the Sanders camp she had used her role to disadvantage his campaign relative to now-presumptive Democratic nominee Hillary Clinton. Some of the emails showed DNC staff mocking Sanders, and in one instance, DNC CFO Brad Marshall suggested the DNC have someone ask the candidate whether he was truly Jewish or an atheist.
On Sunday, Sanders himself called for Schultz' resignation.
Less than a week ago, Schultz publicly mocked her Republican counterpart, RNC chair Reince Preibus, for the GOP's less-than-united front ahead of their own convention to nominate real estate billionaire Donald Trump for president.
Read more: