It's Hillary Clinton's Party — But Bernie Sanders' Liberal Army Is Occupying the 2016 DNC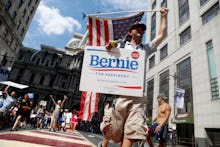 PHILADELPHIA — Democrats are meeting here this week to nominate Hillary Clinton and Sen. Tim Kaine as their party's 2016 presidential ticket.
But judging by a walk through downtown Philadelphia Sunday, you'd think Sen. Bernie Sanders was about to be crowned the Democratic nominee.
In and around the Philadelphia convention center, where delegates will meet throughout the week to discuss party business, the vast majority of people spotted were wearing Sanders T-shirts and buttons, as well as carrying Sanders signs.
Throughout the city, Sanders supporters held protests and marches against both the Democratic National Committee — which they feel "rigged" the primary against their guy — and Clinton, whom some have vowed never to support.
Media coverage around the event was centered squarely on Sanders, after Wikileaks released a trove of hacked emails from the DNC that showed the committee's staff viewed Sanders' candidacy unfavorably.
The scandal led to the resignation of DNC chair Debbie Wasserman Schultz, who has become a hated figure among Sanders supporters who felt she put a finger on the scale for Clinton throughout the primary process.
The entire scene painted a picture of what could be a raucous and unruly convention, giving Democrats heartburn before an event where they hoped to portray a unified front as they set out to defeat Republican nominee Donald Trump.
Sanders, who has made clear that he intends to support Clinton as the Democratic nominee in spite of the DNC brouhaha, is set to speak Monday night in a primetime address before the delegates in the Wells Fargo Arena.
His campaign released a preview of the topics he will hit, saying he "will make it clear that Hillary Clinton is by far superior to Donald Trump on every major issue from economics and health care to education and the environment."
But as some of Sanders' delegates plot tactics intended to embarrass Democrats during the convention, Democrats will be looking to the message he sends to his supporters about potentially unruly behavior.
"I expect Bernie will make a very strong case tomorrow for unity and a compelling argument for Hillary, as will both the President and Vice President," said Steve Schale, a Florida Democratic strategist. "While the DNC stuff is a huge distraction, I really believe that once the show starts, all will be fine."
Read more: