What to Wear to a Summer Music Festival Without Looking Like a Basic Bitch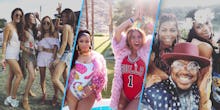 For many a music festival this summer there is a uniform and, most likely, that uniform is very, very tired: There will be feather headdresses, just like there will be maxi dresses. There will be plenty of espadrilles, and maybe even more platform sandals. There will be girls in ripped denim and frayed crop tops. There will be boys in tank tops because it's probably hot as hell. There will be people wearing face paint, and then, some hours later, people wearing smudged face paint. 
Can't 2016 be the year that people stop putting on feather earrings and start getting real? Can't 2016 be the year that people realize that going to a music festival doesn't mean you have to conform to any one look at all? 
To ensure that 2016 is the year that people stop following the rules, we've compiled the many ways that people can definitely go to a music festival this year and not look identical to everyone else and, therefore, not look completely basic. That is, if you're opposed to being basic (There's nothing wrong with that either).
Do wear clothes that don't treat an entire culture like it's an accessory.
In order to stand out (in a good way) first remember to wear clothes that are not influenced by a culture that is not yours, whether that be Native American or Indian or black or South American, and so on. Let's stop using music festivals as an excuse to excessively borrow accessories that belong to a culture that is not yours. For example, feather headdresses, or feather earrings or anything and everything that can be described as "tribal" and are sold at places like Free People. 
Earlier this year, the retailer sold a rainstick for its annual festival collection, as well as something called a "medicine pouch." So, yeah, stay away from that. A flower headdress is fine, as is a tiara or really just a bejeweled headband.
What matters in addition to your own physical comfort, is the comfort of others around you who would have every right to be upset that you're wearing their identity as an accessory. 
Wear clothes that you can actually dance in. 
Although almost everyone wishes they were just a little bit taller whenever they attend a music festival, it is important to keep in mind that you want to dance. Or, hopefully you want to dance. That means that it's probably not a great idea to wear tricky shoes like platforms, unless you are a highly talented individual with a fantastic sense of balance. You don't want to be the one stumbling on the grass, do you? 
Instead, you can wear boots or sneakers or even sandals that are either flat or with a bit of a heel, so you can move in them for hours and hours. The same goes for your outfit, which should be easy and light and clothes that you feel really comfortable in. After all, getting that perfect Instagram shot might seem like the most important thing of the day, until you realize you're going to spend the next 12 hours in the sun wading through grass-turned-to-mud. The best pictures from music festivals are, obviously, the ones where people look like they are genuinely having fun and not in utter agony over a blister-inducing shoe or bothersome dress. 
Wear shoes that you don't mind getting super dirty. 
Take a note from these extremely photogenic white girls above and be sure to wear shoes that can brave the elements. That means: No espadrilles if there's even a slight chance of rain, and no super cheap cotton flats that will surely sink into the mud and make you very, very sad. 
Your feet deserve to be happy and carefree and dry and therefore, sometimes it pays to slide on a pair of huge rubber wellies. If the idea of wearing rain boots really cramps your style, remember that model Kate Moss once famously wore rain boots to Glastonbury in 2005 — and she looked super cool! 
Although no one else can exactly be Kate Moss, we have faith in you and your style that you'll be able to mix fashion with utility. 
But most of all...
Wear clothes that reflect your own personal style, and give no shits. 
The key to not blending in at a music festival is to embrace your own personal style. That means ignoring any and all possible "festival trends" and instead thinking about how you want to look while you pay $11 for a Coors Light. It also means channeling someone like Solange, who often wears matching geometric separates to music festivals, or even Kate Bosworth, who owns a seemingly endless supply of girly tea dresses. 
You can also channel your inner Beyoncé in the "Feeling Myself" video and wear an oversized jersey or a goddamn swimsuit with a fur coat. Alternatively, you could just pick out an outfit that melds your personal style with that of having to be outside for like 10 hours and wanting to have a good time. This is one of the few instances where you really can wear anything you want (save for uncomfortable shit or items that are culturally appropriative) so seriously, go for it. 
The ultimate goal here is that you don't lose yourself by thinking about all the ways you've been told you should look at a music festival, according to magazines that really just want you to buy a bunch of new clothes. What's important here is that whether you're at Made in America or Lollapalooza or even the iHeart Radio Festival, you feel like a total badass. And who determines whether you look good? 
That's right. It's you. 
Read more: