Democratic Convention 2016 Preview: Everything to Know Before Tonight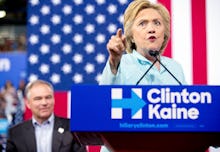 The Democratic Party will convene in Philadelphia from Monday through Thursday to nominate former Secretary of State Hillary Clinton for the presidency and Virginia Sen. Tim Kaine as her running mate.
While Clinton is speaking on the final night of the convention, there's going to plenty to follow in the coming days. Here's a quick rundown of what you need to know.
Debbie Wasserman Schultz is out as DNC chair
Last week, hackers released a cache of illicitly gained emails from senior Democratic National Committee staff. The emails seemed to validate Vermont Sen. Bernie Sanders' contention the party was hostile to his run from the beginning.
In one particularly egregious example, CFO Brad Marshall asked whether the DNC could plant someone to ask Sanders about his religious beliefs in an attempt to alert Southern Democrats to Marshall's suspicion Sanders was an atheist.
In other emails, officials accused the Sanders campaign of incompetence or negligence. Schultz herself called Sanders' campaign manager, Jeff Weaver, a "damn liar" for denying claims that Sanders supporters got violent at a convention in Nevada. (The senator denied the accusations as well.)
Caught violating her supposed neutrality as DNC chair, Schultz came under growing pressure to resign. The Florida representative confirmed Sunday she would be stepping down from the position at the conclusion of the convention.
Viewers can tune in via a number of methods
In addition to a likely livestream on the Democratic Party's YouTube account — where the Republicans broadcast their own convention last week — C-SPAN will stream the convention live on Facebook from 8 to 11 p.m. Monday through Thursday. 
All of the major networks (ABC, CBS, NBC, PBS, CNN, Fox News and MSNBC) will cover the DNC live. According to the Atlanta Journal-Constitution, The Late Show With Stephen Colbert, Real Time with Bill Maher, The Daily Show and Weekend Update will all be broadcasting from Philadelphia or have crews there filming sketches.
Other viewing options include a wide variety of streaming services (pretty much everything but Netflix) and the official DNC 2016 app, which offers a livestream of the proceedings.
Who will be speaking?
While last week's Republican National Convention featured a distinct lack of seasoned political insiders, the Democrats are bringing out a massive stable of well-known national politicians to headline this week's event.
Here's a rundown of the familiar names: Minnesota Rep. Keith Ellison; Arizona Rep. Raul Grijalva; Oregon Sen. Jeff Merkley; American Federation of State, County and Municipal Employees President Lee Saunders; AFL-CIO president Richard Trumka; New Jersey Sen. Cory Booker; Vermont Sen. Bernie Sanders; First Lady Michelle Obama; DNC vice chair of voter registration and participation Donna Brazile; Planned Parenthood Action Fund president Cecile Richards; former President Bill Clinton; civil rights leader Jesse Jackson; EMILY's List president Stephanie Schriock; CAP Action Fund president Neera Tanden; Vice President Joe Biden; President Barack Obama; Maryland Sen. Barbara Mikulski; Clinton's daughter, Chelsea Clinton; and the nominee herself, Hillary Clinton.
Is it too late to get inside?
Read more: