Man Detonates Bomb Outside German Music Festival, Killing Himself and Injuring at Least 12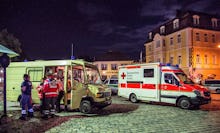 At least 12 people were injured Sunday evening when a Syrian man detonated a bomb outside a packed music festival in Ansbach, Germany, killing himself, according to Reuters. An official said the 27-year-old had been denied asylum in the country last year, but was not going to be immediately deported.
"It's a further, horrific attack that will increase the already growing security concerns of our citizens. We must do everything possible to prevent the spread of such violence in our country by people who came here to ask for asylum," Joachim Herrmann, Bavarian Interior Minister, told Reuters. 
According to officials, the man, whose identity has not been released, came to Germany from war-torn Syria two years ago, and had several run-ins with authorities for drug use. He had also attempted suicide twice before.
"Because the rucksack and this bomb were packed with so many metal parts that could have killed and injured many more people, it cannot simply be considered a pure suicide attempt," Herrmann said, according to Reuters.
ISIS claimed responsibility for the attack, stating it was carried out by "one of the soldiers of the Islamic State," according to the Associated Press.
Although an extremist motive has not been determined, a U.S. intelligence official told Reuters the attack did not seem properly planned.
On Friday, 18-year-old German-Iranian Ali Sonboly opened fire at a mall in Munich, killing nine people.
July 25, 2016 11:20 a.m.: This story has been updated.
Read more: