Everything We Know About the Fort Myers Club Blu Shooting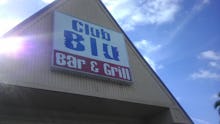 Two people are dead and more than a dozen injured after gunshots rang out in the parking lot of a Fort Myers, Florida, nightclub around 12:30 a.m. Monday morning. 
At least 14 to 16 people were hurt in the Club Blu shooting, with injuries ranging "from minor to life-threatening," according to a statement from Fort Myers police. 
Club Blu, located on Evans Avenue, had reportedly been hosting a "teen night" when the shooting occurred. Victims aged 12 to 27 began arriving at Lee Memorial Hospital around 1:30 a.m., according to WBBH. 
One person died at the hospital, and another died at the scene of the shooting, according to CBS affiliate WINK-TV. Two people were admitted to the intensive care unit — one in serious condition and one in critical condition — and another person was in fair condition. One person was taken to Cape Coral Hospital. Other victims were reportedly treated and released from the hospital.
The two people killed have been identified as Stefan Strawder, an 18-year-old star basketball player at Lehigh Senior High School, and 14-year-old Sean Archilles, according to WINK-TV. 
On Sunday, Strawder wrote on Facebook that he was "thinking about going to this party."
One person injured in the shooting appears to be a man who identifies as Timothy Settles on Facebook. Settles broadcast a short Facebook Live video from a hospital bed in the early hours of Monday morning. On Sunday, he posted that he'd be attending Club Blu that night.
Police say three adults are in police custody, according to CNN. The shooting has not been linked to terrorism, Fort Myers interim police chief Dennis Eads said, according to WINK-TV.
Sunday night's event at Club Blu was billed on Facebook as a "Swimsuit Glow Party," and was open to guests of all ages, according to CNN. 
In a Monday morning Facebook post that has been deleted, Club Blu responded to commenters who suggested teens shouldn't have been at the club. "The event had ended ... the teens were leaving ... no ID required because it was a middle school/high school event! There were older staff present as well as family members picking up teens." 
In a second post, Club Blu wrote, "We tried to give the teens what we thought was a safe place to have a good time. ... There was armed security as well as full security, inside and out."
Witnesses to the shooting described the scene in the Club Blu parking lot as a "madhouse," according to WINK-TV. When one witness, who lives nearby, arrived on the scene, "people were crying and screaming as others were being carried away in ambulances" to Lee Memorial and other area hospitals.
"It was unbelievable," the witness reportedly said, according to WINK-TV.
A police statement said the area is now deemed safe, according to CNN. An "all-out search for those involved" in the shooting is now reportedly taking place.
Florida governor Rick Scott released a statement on the shooting, according to WJXT. 
July 25, 2016 11:02 a.m.: This story has been updated.
Read more: