This Woman Reacted to Her New Racist Workplace Dress Code in the Best Possible Way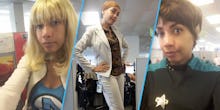 It is 2016 and people are still super concerned about what women wear to work. 
We've seen it at Fox News, where you still can't bare your shoulders. If you're a female meteorologist, you can't wear anything clingy or cleavage-baring — and if you do, prepare for lots of sexist letters about it. Now, even if you just have a regular old office job, with cubicles and all, headscarves are problematic. 
June J Rivas learned this last week after her boss complained first about her wearing a ponytail to work, and then wearing a headscarf. 
"So my boss didn't like me wearing my hair in a ponytail every day ... nor my hair in a scarf ... nor my hair in pigtails," Rivas, who Mic has reached out to for comment, wrote on Facebook, in a post that has now been deleted. 
"I filed a harassment complaint against her as our contract states 'No dress code. Just be clean and pressed,'" Rivas continued, posting a picture of how she usually showed up to work, which shows Rivas in a neat cream suit, a patterned blouse and a headscarf. 
Rather than back down, her boss issued a brand new memo regarding the office's dress code, with special attention to headscarves. 
"We now have a dress code," Rivas wrote. "No any of above, plus no straps, hats, sandals, cleavage, lace, and even (and I quote) 'cultural head wraps.'"
In banning "cultural head wraps" Rivas's boss joins the many other employers who have taken to policing how women of color dress or appear at work. There are already several incidents of women in the workplace being told that they can't wear their hair in cornrows or headscarves. 
In the meantime, Rivas said that she has reported her boss to the U.S. Equal Employment Opportunity Commission and while they investigate, she decided she'd have a little bit of fun. While still abiding by the new dress code, Rivas is now showing up to work in head-to-toe costumes. 
"I have come to work each day in an outfit that fits the guidelines she laid out ... just ... not QUITE the way she expected," she wrote. 
For example, here is Rivas dressed up like a Star Trek character....
...and here she is at work as a fast food worker...
...and here she is as the superhero Storm.
So far, Rivas has posted nearly 20 photos of herself in full-on costume and her Facebook post has been shared more than 20,000 times, with commenters applauding her creativity. "I hope the powers that be get knocked down a peg or two," one commenter wrote. Another: "I love this so much. FIGHT THE SYSTEM OF OFFICE CLOTHING."
Although it's unclear what will happen at Rivas' workplace, or what will happen to her boss, it's great to see a woman fighting the system with a little bit of creativity and a whole lot of humor. 
Read more: