Usher, Imagine Dragons Join John Oliver to Tell Politicians: "Don't Use Our Songs"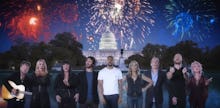 Time and time again throughout this election season, Republicans have been accused of shamelessly appropriating popular music to soundtrack their grand old parties, without asking for artists' permission or blessing. The Republican National Convention was perhaps one of the worst instances, with as many as five artists clapping back at the GOP for using their music to fill in the awkward silences between politicians' often racist and inflammatory speeches.
Now these ironic thefts have their own patriotic ditty thanks to Sunday's episode of Last Week Tonight with John Oliver. For his show, the host brought together Usher, Cyndi Lauper, Sheryl Crow, Josh Groban, Imagine Dragons and several others to record "Don't Use Our Songs" — a plea for politicians like Donald Trump to cut the crap and find artists who actually agree with his politics to play at his rallies.
"We noticed something's wrong, and it's gone on way too long," Usher sings on the chipper tune. "So we're asking you right now: Stop using our songs."
The practice started way before Trump, as Oliver notes in his intro. He digs up instances all the way back in the Reagan era, when the then-president infamously used Bruce Springsteen's "Born in the U.S.A.," a song penned to protest the unfair treatment of Vietnam war veterans, during his reelection campaign.
The RNC made similar mistakes this year, attempting to use songs like George Harrison's "Here Comes the Sun" and Queen's "We Are the Champions" — songs about love and overcoming oppression — to accompany the party's divisive rhetoric.
Of course, Oliver, Usher and Lauper's song is not a gift. They're quick to remind their potential politician listeners that this song isn't free to steal either — not that any would likely try or admit to their wrongdoing.
Read more: