Beyoncé Fan Catches a Pleb Playing Pokémon Go at The Queen's Paris Concert And Loses It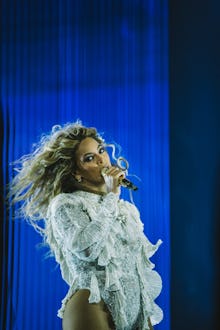 The Pokémon Go phenomena has reached a new low. Thursday night, a Beyoncé fan caught another audience member attempting to catch the virtual creatures while both were front row at Bey's Formation World Tour. 
"This bitch is finding Pokémon. She's finding Pokémon!" the fan says, zooming in on the girl's screen (who was using an incense to catch them all while standing in formation). "When Beyoncé's singing! Fucking Pokémon! Look at where she is! Look. At where. She is!"
The man capped his scathing video, which he shared via Instagram, with the caption "She's lucky Solange never saw her."
The hilarious Instagram user reveals in his video just how close the two are to the stage. But when Beyoncé begins making her way over to their area, he lets up on his rant against the Pokémon trainer and manages to touch Queen Bey's hand, screaming throughout. 
It's as though Beyoncé was blessing him for shutting down the arguably criminal use of augmented reality at a Beyoncé concert.
As the new video game continues to soak up every user's soul (not to mention data), it appears concerts halls are becoming popular venues to catch them all. Rihanna was forced to begin one of her recent stops on the Anti World Tour by shouting to the crowd, "I don't want to see you catching any Pokémon up in this bitch."
May God — or Mewtwo or Bey, whomever you pray to — help us all.
Read more: