Here's the Best Thing That Can Happen to Uneaten Airplane Food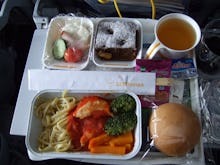 Didn't feel like eating your complementary airplane meal? One Australian food charity has a pretty clever concept for keeping untouched in-flight foods from going to waste. OzHarvest Brisbane repurposes uneaten snacks and first-class meals by transporting them to the hungry, ABC Australia reported. 
The charity works with airlines that take off and land in Brisbane to collect safe and untouched food items, which they then redistribute to those in need. The charity, which launched in 2004, reclaims around  400 to 900 pounds of food every single day. 
How it works: OzHarvest vehicles make one to two trips to the airport daily, rescuing food that's gone uneaten, much of which comes from flights that were canceled or delayed. OzHarvest then distributes the uneaten snacks and meals to more than 200 charities in Brisbane.
Even though this is all happening in another hemisphere, airlines in the U.S. may want to take a cue or two. The country throws out 50% of the edible food it produces every year, and it wastes $29 billion worth of food simply because expiration dates aren't as clear as they should be. 
While activists continue to implement programs to reduce this waste — for example, extra food at this year's Democratic National Convention will be given to hungry folk in Philadelphia — the country is in dire need of some food waste reevaluation. An estimated $160 billion is wasted by food consumers and retailers annually, the Guardian reported, while more than 48 million Americans are food-insecure, according to Feeding America.
So how can Americans make a dent in the country's food waste issue? Small steps at home might be a good place to begin. The Environmental Protection Agency suggests planning before grocery shopping, learning how to properly store and freeze particular foods and taking advantage of leftovers for starters. These small measures won't just reduce the damaging impact food waste has on the environment, it'll also lessen the damaging impact on your wallet. Now that's a real win-win.
Read more: