Munich Shooter Ali Sonboly May Have Bought Gun on the Dark Web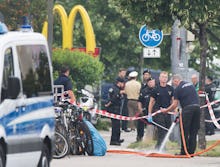 The gunman who killed nine people at a Munich shopping mall on Sunday reportedly purchased his gun on the dark web — a covert network of sites accessible using special protocols or software. 
The 18-year-old gunman, Ali Sonboly, appeared to have planned the shooting spree for a year, CNN reported. The gunman may have purchased the nine millimeter Glock 17 on the dark web, which police determined after searching the chat history on his computer, Robert Heimberger, president of the Bavarian state criminal police office, said at a press conference Sunday.
The weapon was originally deactivated and used as a theatrical prop, according to authorities, which was then reactivated, likely "sloppily and in a country that does not monitor such adjustments properly," German weapons expert Hans Scholzen told the Guardian. 
Following the Munich shooting, the German government has called for tougher gun laws, the Telegraph reported, and German Interior Minister Thomas de Maiziere called for a common EU policy.
"First we have to determine how the Munich perpetrators procured a weapon," Maiziere said. "Then we have to look very carefully at where to make legal changes."
Since the handgun used in the attack was most recently documented in Slovakia in 2014, the Telegraph reported, it brought up concerns regarding the ability for someone to purchase and sell a gun within the EU from a country that has less strict gun control laws. 
The anonymity and difficulty of access makes the dark web an enticing home to seedy marketplaces — it's where one of the largest, most infamous (and possibly fake) black markets for weapons exists, and more people than ever are now using it to buy drugs. It's also virtually impossible to shut down. 
Read more: