Rihanna Didn't Want to See Anyone Playing 'Pokémon Go' at Recent France Concert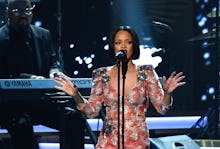 Rihanna's having none of this Pokéshit. 
The "Work" singer, who's currently on her Anti World Tour, was forced to pre-emptively shut down anyone thinking of attempting to catch 'em all at a concert in France on Saturday night. 
"I don't want to see you texting none of your boyfriends or your girlfriends," Riri demanded from her fans in attendance. "I don't want to see you catching any Pokémons up in this bitch." 
Her pluralizing of the term used to describe the virtual creatures proves she has absolutely no idea what Pokémon even are — and that she couldn't care less. A video of the singer's rules for fans went viral across Twitter on Sunday night:
Meanwhile, Beyoncé had one of her fans doing her dirty work for her when a woman in the front row of her Saturday concert opened the video game.  A man recorded the offensive act, offering her a scathing critique before uploading the video to Instagram: 
Even rare encounters with the queens are being rendered horrendously normal by Pokémon Go. What a time to be alive.
Read more: