'Pokémon Go' Users Pay Tribute to Tamir Rice With PokéStop at the Site of His Death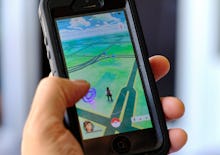 Pokémon Go has drawn in hoards of users with ease, allowing gamers to engage with their environment in new ways through its augmented-reality model. For users in Cleveland, Ohio, that means having the opportunity to rewrite history. 
According to Belt Magazine, the in-game description for the PokéStop at Cuddle Gazebo reads as follows: "Community memorial for Tamir Rice, shot and killed by CPD officers who shot him in under 2s after breaking department policy regarding escalation of force."
When developing the app's interface, Pokémon Go's used actual historic sites and monuments from cities to populate the in-game map with PokéStops. They also invited users to add their own markers, asking only that they be "a location with a cool story, a place in history or educational value." For a city forever colored by the 2014 shooting of 12-year-old Rice, the site of Rice's death fit the bill.
The gazebo's description acts as an alternative narrative to the official 2015 court decision which exonerated Timothy Loehmann, the Cleveland Police Department officer who opened fire on Rice, claiming that his decision to shoot the 12-year-old was "objectively reasonable." 
Cleveland's mayor sent Rice's family a letter of apology and agreed to pay a $6 million settlement — after initially saying Rice's death was "directly and proximately caused by the failure of [Tamir] to exercise due care to avoid injury." The city later served his family a $500 ambulance bill.
A commenter named Jamie claimed to be the person who wrote the Cuddle Gazebo description in a comment on the Belt story, initially unsure if the creators would accept it for the game's final version. "The events that ended Tamir Rice's life are something that I worry will be forgotten," wrote Jamie. "It was difficult to see the gazebo pictured without context, and I added a bit without expecting it to be noticed by anyone else."
Jamie said, "Memorials are built in the hope people will remember."
Read more: