Amber Rose Just Issued a Flawless Defense of One of the Most Widely Reviled Sex Acts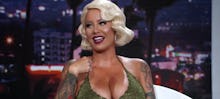 There is perhaps no sex position as divisive as the 69. Some people consider it to be a perfect slice of sexual heaven; others believe that 69-ing is a torture act designed for the sole purpose of ruining oral sex for everyone involved.
And some are just worried about having a nose near their ass.
On a recent episode of the Amber Rose Show, one such person wanted to #AskMuva for some advice on how to deal with such insecurities.
"Do you have any advice on how to make 69-ing less awkward?" the audience member asked. "My boyfriend's really into it, but I just can't do, like, the whole his-nose-in-my-butt thing."
To which Rose replied: "Okay. Guys don't give a fuck, I'll be honest with you. They don't care!"
Rose's resident sexpert Chris Donaghue added that, much like playing a musical instrument and/or becoming a chef, 69-ing gets easier with practice.
"The more you do it, the more comfortable you're gonna get," he said. "And this is all about, you know, getting rid of body shaming and feeling more comfortable in your body."
To which Rose replied: "He ain't worried about your ass. He loves your ass." 
One tip that both Rose and Donaghue forgot to mention: Don't forget to shower extra thoroughly and avoid Chipotle on the day of any given ass-inclusive sexcapades!
You can watch the full episode of the Amber Rose Show at VH1.com.
Read more: