At the Democratic Convention, Michelle Obama's Understated Blue Dress Stole the Show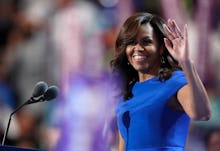 At the Democratic National Convention in Philadelphia on Monday evening, first lady Michelle Obama stepped out in a knee-length, democrat blue dress with cap sleeves designed by young American designer and Project Runway winner Christian Siriano. She capped off the look with a sleek pair of silver heels. 
Previously at the DNC, Obama has wowed in an array of bright colors, first showing up in 2008 in a turquoise, knee-length dress designed by her friend Maria Pinto, and then a red floral dress designed by Thakoon. At the time, her looks were applauded for being figure flattering, fashion-forward and chic, drawing comparisons to Jacqueline Kennedy, but with a twist. 
"As first lady, fashion has helped Obama shape an image that is both accessible and aspirational," Daily Beast fashion critic Robin Givhan wrote of Obama. "She spares no expense for state dinners or other formal events. With singular creations from Naeem Khan, Tom Ford, Doo-Ri Chung and Ralph Lauren, she has pushed American-hued glamour onto the world stage. And with day dresses from Talbots, J. Crew and Target, fashion has helped maintain her everyday appeal." 
During her many appearances at the conventions over the past eight years, Obama has made a point to wear mostly American designers, showing up to the 2012 DNC in a pink, patterned Tracy Reese dress and heels by J.Crew that retailed for $245. Those shoes, by the way, sold out almost immediately.
On Monday night, Obama not only went for yet another young American designer, but one who has made a name for himself dressing women of various sizes including, most recently, comedian Leslie Jones. Siriano even has his own line at the plus-size retailer Lane Bryant. 
"My whole thing is that I want my brand to be accessible to every woman," Siriano recently said to Mic. "I think that it's way more exciting walking down the street and seeing 10 women wearing Christian Siriano. At the end of the day, I'm here to make beautiful things for everyone." 
So by showing up in that blue dress on Monday night, Obama only furthered her legacy of having a democratic attitude toward style, embracing not only young designers but clothing that doesn't cost thousands upon thousands.
Over on Twitter, people were notably excited about how she looked: 
By embracing style in the way she has, Obama's been able to not only put her sophisticated, sensible style on display, but get people talking about it too.
Read more: