Black Man Playing 'Pokémon Go' Was Surrounded by Iowa City Officers With Guns Aimed at Him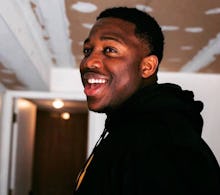 What happens when a black man chasing Pokémon runs into police officers chasing black men? Arguably the scariest Pokémon Go story to hit the internet since the game launched in early July.
Faith Joseph Ekakitie, a senior defensive end for the University of Iowa football team, published a harrowing Facebook post last week detailing his encounter with five Iowa City police officers, which came in the middle of his quest "to be the very best like no one ever was" — à la the iconic original U.S. theme song to the 1998 Pokémon animated series. 
"Today was the first time that I've ever truly feared for my life," the 23-year-old wrote on July 20. "Today I was surrounded and searched by approximately five Iowa City police officers."
Ekakitie was wandering through an Iowa City park on Wednesday, playing the popular mobile game Pokémon Go. He reportedly had headphones in his ears, so he did not hear the five officers before suddenly realizing they'd surrounded him. 
Four of the officers pulled their guns on Ekakitie.
"My pockets were checked, my backpack was opened up and searched carefully and I was asked to lift up my shirt while they searched my waistband," Ekakitie wrote.
"From the police officers' point of view, all they knew was that a bank had just been robbed less than 10 minutes ago," he added. "The suspect was a large, black male, wearing all black, with something on top of his head, and the suspect is armed. As they drive past an Iowa City park that was less than three minutes away from the bank that was just robbed, they notice a large, black man, dressed in all black, with black goggles on his head."
Fortunately for Ekakitie, the misunderstanding was quickly resolved. He had not robbed the bank. Even more mercifully, the police officers did not open fire, wounding or killing him, as a staggering number have in recent police shootings of black men.
"I am not one to usually rant on Facebook or anywhere else, but with all of the crazy things that have been happening in our world these past couple of weeks it is hard to stay silent," Ekakitie wrote in apparent reference to the recent killings of Alton Sterling and Philando Castile, which were filmed and disseminated widely on social media. "I am thankful to be alive, and I do now realize that it very well could have been me, a friend of mine, my brother, your cousin, your nephew etc."
Ekakitie then thanked the Iowa City PD for handling the situation in a professional manner. Jorey Bailer, a sergeant with the department, went on to defend the officers' actions to the Des Moines Register, based on the fact that Ekakitie so closely matched the description of the suspect.
"Let's just go ahead and add Pokémon Go to the extremely long list of things white people can do without fear of being killed, while black people have to realistically be wary." — Omari Akil
But Ekakitie's encounter with the police reflects broader concerns facing black Pokémon Go players, who must balance the game's exploratory nature with very real concerns about being perceived as threats, and even possibly killed, if they end up in the wrong place.
"Let's just go ahead and add Pokémon Go to the extremely long list of things white people can do without fear of being killed, while black people have to realistically be wary," writer Omari Akil wrote in a post for Mic on July 11.
"I would urge us all to at least attempt to unlearn some of the prejudices that we have learned about each other [that] now plague our minds and our society," Ekakitie wrote in closing. "I am convinced that in the same way that we learned these prejudices, we can also unlearn them."
Read more: