This Bacon Cheeseburger Comes With a Shot of Bourbon in Its Bun Because Life Is Short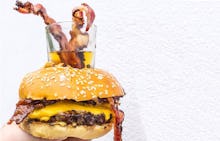 Here we are in 2016: an age in which mankind is pushing its inventive limits. It is in this entrepreneurial spirit that a restaurant in Australia has taken the standard burger and elevated it to new, boozy heights. Chicken and Sons in Sydney now serves a cheeseburger that has a shot glass of Bulleit Bourbon nestled inside the bun. The creation is called the Bourbon Burger and it costs a cool $16.40, the restaurant's Facebook page noted. 
Nothing about this menu item is tame. The burger features a beef patty topped with American cheese, a special sauce, pickles and jalapeños — plus more bourbon in the form of bourbon-glazed bacon and bourbon barbecue sauce, because you can't have too much bourbon, right? 
As illustrated above, the shot of bourbon in the bun is also equipped with a couple strips of bacon. The whole deal comes with a side of beer-battered fries for... erm, balance. The only thing this burger is missing is some sort of weird-colored bun to really make it the ultimate stunt food. 
There are no instructions as to how to eat the creation, however. Do you drink the bourbon first and then eat the burger? Do you eat around the shot glass and finish with the booze? Or do you just give up and buy a bottle of Bulleit and head to McDonald's instead? 
Read more: