What Time Will Michelle Obama Speak at the Democratic National Convention?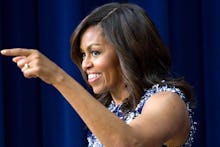 First lady Michelle Obama is one of the most-anticipated speakers at the Democratic National Convention, which is currently underway in Philadelphia. 
To kick off the DNC, Monday will include a star-studded schedule of speakers. Obama's address is expected to take place around 10 p.m. EST if not slightly before, as that's the prime-time spot for viewership. The convention will livestream the speeches; coverage can also be found on CBS, NBC and ABC.
According to the DNC website, she will be preceded by Vermont Sen. Bernie Sanders, Hillary Clinton's main rival in the race for the Democratic nomination. Sanders suspended his campaign after Clinton clinched a solid lead to become the presumptive nominee.
However, the Clinton campaign said Monday that Sen. Elizabeth Warren (D-Mass.) would address the convention in a prime-time flanked by Michelle Obama's and Sanders' speeches. According to their lineup, Obama will speak first, followed by Warren and finally Sanders.
Regardless of the timing or order, the DNC's back-to-back trifecta of some of the party's biggest stars will certainly garner significant attention from the outset.
Obama, who is rumored to endorse Clinton in her speech, has cultivated a reputation of sincerity and forthrightness, qualities that make many in the Democratic base believe she is a crucial champion for their presidential nominee. Obama's approval ratings have remained consistently high since her husband took office, meaning she'll likely reach a large swath of the population. 
"I'm glad that she was selected to speak on the first night, the opening night of an historic convention," vice chair of the Democratic National Committee, Donna Brazile, said, according to the Washington Post. Brazile will serve as interim chairwoman of the DNC after the current chair, Debbie Wasserman Schultz, became the center of a scandal on Saturday, when her emails were leaked, revealing her effort to undermine Sanders during the campaign — Schultz will resign at the conclusion of the convention.
"The country trusts her," Brazile said of Obama. "People know she's authentic and will be honest, and [they] want to know what she thinks."
"One of the great attributes about the first lady that we've always known, even when we were back in college, is her ability to inspire and be honest, and her candor," said Democratic Alabama Rep. Terri Sewell, who went to Princeton University with Obama, the Wall Street Journal reported. 
After a particularly contentious and bitter battle between the Clintons and the Obamas in the 2008 campaign, the first lady's speech will be yet another indicator that both families have joined forces for the sake of their party's success. 
Read more: