One Tweet Captures the Conflict POC Feel About Choosing Donald Trump or Hillary Clinton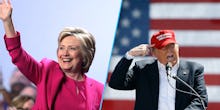 Both Republican nominee Donald Trump and presumptive Democratic nominee Hillary Clinton are heading into the final stretch of the 2016 presidential race with what the New York Times reported in June as "the worst favorable ratings of any ... nominee in decades," leaving many Americans feeling that their vote this fall will be for the lesser of two evils.
But in a tweet on Sunday, pop singer Shamir Bailey explained why, for people of color, that feeling is magnified by 10. 
Accompanying a photo of the artist sipping from a mug with Clinton's face on it, Bailey wrote, "Tfw u have 2 vote 4 da white lady who wuld lock her door if u were on her lawn instead of da man who would shoot u."
Trump has been taken to task a number of times for racist comments against Mexicans, saying Judge Gonzalo Curiel isn't qualified to preside over his Trump University case because Curiel is of "Mexican heritage," and promising repeatedly to "build a wall" to keep undocumented immigrants from entering the country. Last year, Trump called for the "total and complete shutdown" of Muslim immigration, vowing to track and profile every follower of one of the world's largest religions.
Trump's messages, though some people say they may be just empty promises, have continually put people of color in imminent danger. At one Trump rally, the candidate's supporters "shoved and tackled" a Black Lives Matter protester; two months earlier, two men beat a homeless man with a metal pipe because they believed he was a Hispanic immigrant, reportedly saying, "Donald Trump was right." Trump's security also forcibly removed a young black woman from a March rally, just one day after doing the same to 30 black students. 
But while Clinton may seem like the anti-Trump with regards to race — she has spoken out about systematic racism and visited the families of Michael Brown, Trayvon Martin and Tamir Rice — some perceive Clinton as a more subtle brand of racist: the kind that wouldn't shoot, as Bailey writes, but would "lock her door."
In February, two Black Lives Matter protesters called Clinton out on comments she made in 1996, implicitly referring to black youths as "superpredators."
One of the protesters asked, "Can you apologize to black people for mass incarceration?"
Though Bailey said in a follow-up tweet that he will vote for Clinton, he added it "doesn't change the fact she's said questionable things and dodges racial issues."
Mic reached out to Bailey's manager for further comment. We'll update this story if we hear back.
(Editor's note: Shamir Bailey does not have a preferred gender pronoun and often goes by "he" in the press.)
Read more: