Nintendo Stock Dives as 'Pokémon Go' Speculators Learn a Tough Lesson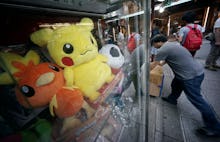 Pokémon Go euphoria reached an abrupt halt on Friday afternoon — at least as far as investors are concerned. 
After the game went viral earlier this month, people piled money into Nintendo stock, thinking the game represented a turnaround for the company, which has generally seen its stock price decline over the last eight years.
Now Nintendo has announced in its earnings report the financial impact of the game is expected to be "limited."
The revelation, while not news to everyone, was a wake-up call for Nintendo investors: The stock plunged 18% in a single day, the maximum single-day drop Japan's stock exchange permits.
The problem? Nintendo is really only a part-owner of the Pokémon franchise.
The company's effective "economic" stake in the game turns out to be even smaller than investors may have realized, at just 13%, according to an analyst interviewed by Bloomberg.
As Mic explained last week, even if Pokémon Go is a huge financial success, the game has a lot of mouths to feed: There are several co-owners and other stakeholders in the app that dilute how much profit Nintendo would see. 
Niantic, an independent company and Google spin-off, developed the game. Nintendo must also split whatever it makes from in-app game purchases with Apple, which takes a cut of all transactions made in its app store. 
Looking at Nintendo stock's meteoric rise and sudden decline this month provides an important lesson about the stock market: When presented with any form of news — good or bad — the market tends to overreact.
This is why many of the most successful investors, like Warren Buffett, emphasize that business fundamentals matter more than investor sentiment — which can change with the wind — and advocate a long-term approach to investing.
Read more: