There Are More Transgender Delegates at the 2016 DNC Than Black Delegates at the RNC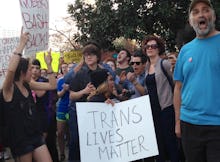 PHILADELPHIA — The numbers tell the story.
There are more transgender delegates to the 2016 Democratic National Convention here in the City of Brotherly Love than there were African-American delegates to the Republican National Convention in Cleveland last week.
According to various tallies, about 27 or 28 transgender delegates, superdelegates and committee members will serve at the DNC, which gavels in Monday night.
Only 18 African-Americans served at the GOP gathering, a turnout that reportedly marked a historic low for the last century.
At 25, Anita Green of Missoula, Montana, said she is the youngest openly transgender delegate in the country — and proud of it.
"I think it shows that it's incredibly important for Democrats to have diversity," Green said in an interview as a group of delegates, convention officials and friends stopped for a snack at a downtown restaurant.
"It shows that the DNC is taking an affirmative-action type of an approach and a progressive type of an approach and that Democrats want to hear from minorities — and that means a lot to me," she added.
Green, a fervent Bernie Sanders supporter, said she's particularly honored to serve as the first trans delegate from Big Sky Country "because we are finally representing a demographic that has never been represented before in Montana."
Mara Keisling of Washington, D.C., a member of the DNC platform committee, considers Donald Trump an "odious demagogue" on a good day, and says the Republican establishment is just "making excuses" for their nominee.
Addressing the diversity rift between the dueling conventions, Keisling said, "To be slightly fair, there are more Democratic delegates than Republican delegates."
If you do the math, yes, the proportion of trans delegates in Philly to the entire delegate population is roughly on par with the number of black delegates in Cleveland.
But there are more African-Americans than transgender people in the overall population: The former constitutes slightly over 13.3% of the U.S. population, per Census data as of July 2015, compared to just 0.6% of Americans who identify as transgender, according to a June UCLA study.
Still, Keisling firmly calls the situation on the Republican side a categorical "disgrace. It still doesn't make any sense," she said. "You almost have to work hard to be that not diverse."
To drive the contrast home, delegate Wendy Ella May pointed out that at the DNC, her state of North Carolina alone — home of the controversial HB-2 legislation limiting use of public restrooms by birth-assigned gender — has three openly trans people in its the delegation.
"Here's my question: How many trans delegates were there at the Republican convention?" she asked. "Open trans delegates?"
The late Karen Kerin of Vermont did serve as a delegate to the Republican National Convention in Houston in 1992 — and went on to run for the House of Representatives on the GOP ticket against one Bernie Sanders in 2000. This year, Jennifer Williams, a trans person from New Jersey, wrote that she attended the RNC as an honorary delegate.
The Democrats still see a great divide between their party and the GOP.
"We're the party of inclusive, not exclusive — and that makes a big difference," May said of the Democrats.
Repeated requests for comment from the Republican National Committee on Sunday and Monday elicited no response.
This story has been updated.
Read more: