iHeart Radio Festival 2016 Lineup Includes Drake, Sia, Ariana Grande, Britney Spears, More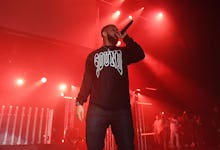 The 2016 iHeartRadio music festival announced its blockbuster line-up on Monday, and it is a hell of a spread. The annual festival features some of the music industry's biggest acts this year, including Drake, Britney Spears, Ariana Grande, Usher, Sia, Pitbull and U2. The two-day event will be held in Las Vegas on Sept. 23-24, and will be live streaming on CWTV.com, according to a statement from the festival's organizers. 
It's the festival's sixth year in production, and is proving to be just as star-studded as the ones that came before. Last year's event featured Kanye West, the Weeknd, Coldplay and Demi Lovato, among plenty others.
"After five years of producing some of the best lineups to ever take the stage, we're excited to unveil one of the strongest iHeartRadio Music Festival rosters to date," Tom Poleman, President of National Programming at iHeartMedia, said in a statement. "This year's show is a complete cross section of the best artists from every genre of music. The weekend will be a true representation of the diveristy of our iHeartRadio stations across the country as well as the music you find on the iHeartRadio app."
The 2016 festival will also include performances by Cage the Elephant, Tears for Fears, Zedd, OneRepublic, Florida Georgia Line, Billy Idol, Sam Hunt, Twenty One Pilots, Alessia Cara and Sting. Tickets for the eclectic lineup go on sale July 30 via iHeartRadio.com. There is a currently resale for MasterCard holders, beginning today here. 
Read more: