Bill Nye Shuts Down Skeptics on Climate Change, Blames Oil Execs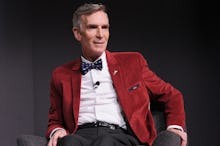 There are still people who don't believe climate change is a thing. They've turned a blind eye to the looming uncertainty of food production, the desperate way we need to curb greenhouse gas emissions and the "possibly catastrophic" changes to the weather. One of those doubters is Donald Trump, the Republican nominee for president of the United States, the country "most to blame" for global warming.
Fortunately, scientist Bill Nye has a few things to say.
"It's not that the world didn't used to be warmer in the ancient dinosaur days," Nye tells Vocativ in a video. "It's the speed at which the world is getting warmer ... that's so troublesome."
Researchers recently found this year — meaning, this last stretch of 12 months — was the ninth-consecutive hottest stretch in history. It's setting 2016 up to be the hottest year ever — beating 2015 and 2014 before it.
"There will be a lower quality of life for billions of people around the world," Nye says.
According to Nye, it wasn't volcanoes, nor early planetary heat, nor solar cycles that caused the climate change problems we're staring at today. He says the planet is getting hot at an unprecedented rate because of the unprecedented rate at which we produce energy — and the amount of money and care used to hide it.
"The fossil fuel industry works very hard to maintain their status quo — [they] even hired some of the very same people, actual people, from the cigarette days," Nye says, adding that the New York Times found documents that showed Exxon scientists, before the company was called Exxon Mobile, knew about the impact fossil fuels had on the environment. "They encouraged their bosses to get into a different business and instead the bosses dismissed those people."
Vocativ's Jennings Brown summed up Nye's statements as, "The fossil fuel industry is spending countless millions to fund a corporatocratic machine that deceives the American public so that tycoons can get rich off the destruction of the Earth."
In other words: Our planet is doomed — and the fossil fuel industry is helping it along.
Read more: